Congrats to Terence Crawford and Yuriorkis Gamboa for being chosen Potshot Boxing's (PSB) Fight of the Year!
On June 28, 2014, the boxing world was treated to a surefire boxing war between 2 of the best lightweights in the world.  Terence "Bud" Crawford and Yuriorkis Gamboa did what is not really being done in boxing right now, and that is two top undefeated fighters coming together in their primes and giving the boxing world what they want to see.
Crawford and Gamboa gave the boxing world so many brutal memories in their fight that it was the clear choice for Potshot Boxing's 2014 Fight of the Year!
iPage Easy-To-Use Site Builder. Try it now for only $3.25 a month!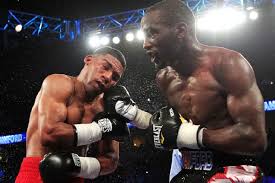 This great fight took place in Crawford's backyard at the CenturyLink Center in Omaha, Nebraska. Gamboa was heading into this fight looking to spoil Crawford's homecoming by winning the fight and taking Crawford's WBO lightweight title in the process.
Gamboa used his quickness to get off to a great start in this fight as he managed to win the first 4 rounds on a lot of boxing expert's scorecards.   Crawford seemed to be a little tight in those first four rounds, but started to use his jab to turn the fight around in his favor.
The first 4 rounds was simply just a feel out process for both fighters as the pace of this fight picked up tremendously and blossomed into one of the best fights the boxing world have ever seen.
Lose weight by drinking Bystrictin shakes! A natural alternative for blocking hunger without surgery or diet.
In round 5, Gamboa got caught with a huge right hand shot by Crawford that sent Gamboa flying to the canvas. Gamboa would get up off of the canvas and swing for the fences.  This is what I like about Gamboa; when he gets hurt, he tries to get back at his opponent which always makes for an explosive fight.
Gamboa's aggressiveness, however, would lead to him getting rocked at least two more times in that 5th round.  Gamboa managed to barely survive the 5th round, but he was clearly on shaky legs.  The 5th round of this fight was one of the best rounds of 2014!
Crawford did a great job using his reach to control the fight from the 5th round on and simply punished Gamboa at every turn in this fight.  Gamboa showed true toughness by continuing to move forward in hopes of landing a big shot on Crawford, but Crawford's accuracy was laser sharp as he kept catching Gamboa with counterpunches.
Crawford's counterpunching would prove to be too much for Gamboa as Crawford caught Gamboa again in the 8th round as Gamboa was coming on the inside with a counter jab, followed by a left hook, a right hook, and another left hook that sent Gamboa down to the canvas once again.
Learn how to make an extra income by taking surveys. Click here!
Here comes the 9th round!  Terence Crawford and Yuriorkis Gamboa gave the boxing world one of the best rounds in 2014.
In the 9th round, Crawford caught Gamboa with a huge counter left hook that dazed him. Gamboa would finally get his shot in the fight to shine as he caught Crawford was a big right hand shot that sent Crawford stumbling back. Gamboa gave Crawford everything he had to try and finish him by throwing bombs from everywhere, but to no avail.
Gamboa's all out aggression would lead to him getting caught by a vicious left hook from Crawford that sent Gamboa to the canvas for a third time. Gamboa showed the heart of a lion by getting off of the canvas only to get sent back to the canvas for the last time by Crawford. The referee stopped the fight, and Crawford was awarded the 9th round KO victory, thus, retaining his WBO lightweight title.
Conclusion
2014 witnessed two young undefeated fighters in their professional boxing primes coming together and putting on a crowd pleasing fight that the boxing world will remember for years to come!  This simply does not happen in the sport of boxing as often as it should, but in June of 2014, I was proud to see two young fighters willing to put boxing politics aside and fight each other to the delight of the boxing world.
Terence Crawford and Yuriorkis Gamboa are going to be surefire superstars after that great performance they put on in June of 2014. The sport of Boxing need more of the top fighters to step up and fight each other like Crawford and Gamboa did, instead of running from each other and waiting until the money is right!!
The fight between Terence Crawford and Yuriorkis Gamboa is definitely what the sport of boxing is all about, and I hope we will see more fights like this one in 2015 and beyond!
Google Chromecast HDMI Streaming Media Player. An easy way to enjoy online video and anything from the web on your TV!
For more boxing news and articles continue to visit www.potshotboxing.com. If you like this post and other's from Potshot Boxing, feel free to spread the word to your favorite social media channels with your friends and family!! Potshot Boxing – "Boxing news and article bites for all walks of life."