Roy Jones, Jr. gave the boxing world a clinic in his fight with Bobby Gunn last night. Jones used a good jab; a punch that Jones almost never had to use in his prime to outgun Bobby Gunn.  Gunn seemed to be looking to land one big shot on Jones all night, but the opportunity never presented itself.
In round 2, however, Gunn did land a big left hook on Jones.  Jones took the shot well.  Gunn continued to be aggressive, but Gunn's ineffective pressure started to play into Jones's hands.
"Boxing World" T-Shirt!  Now here's is a boxing t-shirt the entire Boxing World can love!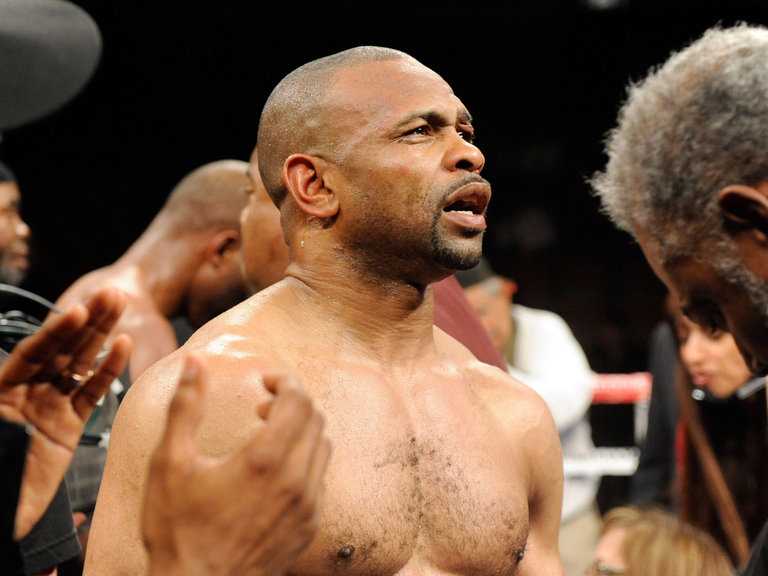 Jones use his chicken wing tactics to throw any offense that Gunn try to impose on him.  When Jones got close to the ropes, yes Boxing World, Jones used his jab to get out of harm's way.  Now, I know this was Bobby Gunn that Roy Jones, Jr. was fighting, but Roy showed good reflexes and started to heat up in this fight.
As the fight moved on into rounds 4, 5, and 6, Jones started to mix in hard shots to Gunn's body, while doubling up on the jab.  Gunn found himself reacting to everything Jones was doing instead of attacking which led to him getting outfoxed the whole night.
In round 7, Jones started to showboat a little bit as he knew that the guy in front of him was simply not in his league.  Every time Jones threw a punch, Gunn was on the defense.  As round 7 continued, Jones wowed the boxing crowd with a crisp straight right hand, followed by a mean left hook, that made Gunn do a little dance.
Championship Tees By PSB! Boxing T-Shirts for the Boxing World and Beyond!
The vicious right, left combination by Jones broke Gunn's nose.  The 2 fighters jawed with each other after that dazzling display by Jones, but it was clear that Jones was in control of this one-sided fight.
At the start of the 8th round, Gunn's nose was bleeding so profusely that he did not make it out of the corner for round 8.  The referee stopped the fight and Roy Jones, Jr. was awarded the 8th round TKO victory over Gunn.  With the win, Jones captured the vacant WBF cruiserweight championship.
Conclusion
Roy Jones, Jr. gave the boxing world a little blast from the past.  He showed us that he still has some of those chicken wing reflexes left.  Jones packed some power in that left hand because when he landed that left hook on Gunn in the 7th round, Gunn started bleeding all over the arena.
Should Roy Jones, Jr. finally hang up the gloves for good?  Yes, Boxing World, to answer the question is he should.  Again, however, if Jones wants to fight, who am I to judge.

Loading ...
T-shirt for Boxing Champions! Check out this "Boxing Champ In The Making" T-Shirt! Not Sold In Stores!
For more boxing news and articles continue to visit www.potshotboxing.com. If you like this post and other's from Potshot Boxing, feel free to subscribe to this boxing website by entering your email address into the floating email form provided on this post! Potshot Boxing – "Boxing news and article bites for all walks of life."