Here are the boxing results from the Andre Ward vs. Alexander Brand light-heavyweight fight.
Andre 'S.O.G.' Ward simply dominated Alexander Brand for 12 rounds as it was clear that Brand was out of his league against such a great fighter like Ward. Brand was no match for Ward. He was tough, however, as he took tremendous punishment from Ward and did not fall once.
Ward gave his hometown crowd in Oakland a true boxing clinic. Heading into the fight, the betting odds were at an unprecedented 100 to 1. It was not hard to make any boxing expert look like a genius for this fight.
Check out these great t-shirts provided by Potshot Boxing's (PSB) Championship Tees By PSB!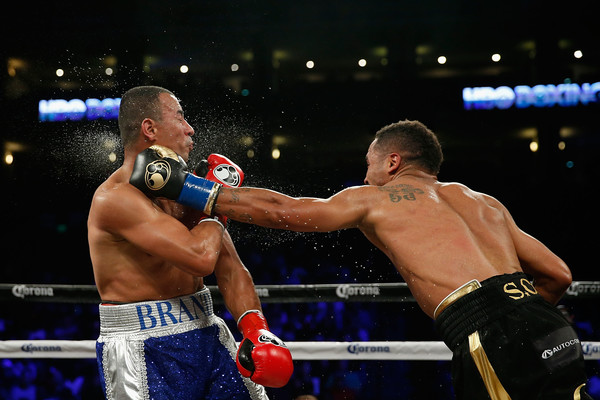 Ward targeted Brand's soft body the entire night while mixing in devastating straight punches and blistering hooks to Brand's dome. The only highlight Brand had in this fight was when he tried to catch Ward a sweeping left hook and fell flat on his face as he missed wildly.
Ward displayed great defense and ring generalship as well. Ward won every round en route to a 12 round unanimous shutout victory. With the win, Ward improved to 30 and 0; while capturing the vacant WBO Inter-Continental light-heavyweight title in the process.
Conclusion
Well, well, well! So now the stage is set for Andre 'S.O.G.' Ward and Sergey 'Krusher' Kovalev to bang on each other for the right to be the best Pound 4 Pound fighter in the sport. Yes, Boxing World, this fight between Kovalev and Ward is the real fight for Pound 4 Pound Supremacy.
Gennady 'GGG' Golovkin and Roman 'Chocolatito' Gonzalez are great fighters, but Kovalev and Ward are greater in my humble opinion. When Ward and Kovalev are in the ring, both fighters have a mean streak about them that you don't see in a lot of fighters.
November 19, 2016 on HBO PPV will crown the new #1 Pound 4 Pound Fighter in the world. For now, however, I do not care about Ward's inactivity. When Andre 'S.O.G.' Ward fights, he is head and shoulders above every fighter in the sport in my humble opinion. For that reason, he will remain Potshot Boxing's (PSB) #1 Pound 4 Pound fighter unless Kovalev can prove me otherwise on November 19.
FanDuel! One-Week Fantasy Football Leagues for Real Money! Join Now. Leagues start at $1!
For more boxing news and articles continue to visit www.potshotboxing.com. If you like this post and other's from Potshot Boxing, feel free to spread the word to your favorite social media channels with your friends and family!! Potshot Boxing – "Boxing news and article bites for all walks of life."