What an exciting month of boxing action in September of 2016! In the month of September, the boxing world witness great action from Jerwin 'Pretty Boy' Ancajas defeating McJoe Arroyo to capture the IBF junior bantamweight title; to Canelo Alvarez putting on a masterful performance against Liam 'Beefy' Smith en route to capturing the WBO junior middleweight title.
Gennady 'GGG' Golovkin continued his dominance in the sport when he broke Kell Brook's face en route to another swift and easy knockout victory. The boxing world also witnessed Roman 'Chocolatito' Gonzalez become the first Nicaraguan fighter to capture world titles in 4 different weight classes.
FanDuel Fantasy Football! You could be winning right now. Sign up today!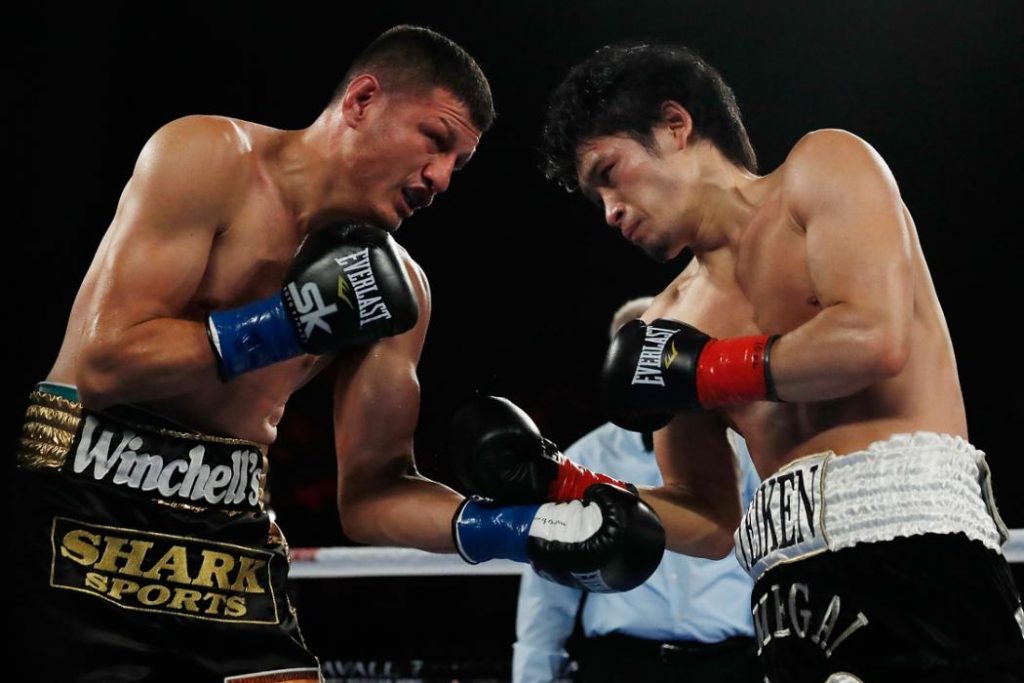 Again Boxing World, Chocolatito's fight with Cuadras should have been a slam dunk for boxing's Fight of the Month for September of 2016, but the all-action punching bag Yoshihiro Kamegai stole the heart of Potshot Boxing (PSB) as PSB just wanted to give him some love this month.
The Kamegai vs. Soto-Karass fight was the bout right before Roman Gonzalez and Carlos Cuadras took center stage at the Forum in Inglewood, California on September 10, 2016. Heading into the fight, Soto-Karass was already on the brink of considering retirement. Well after this fight with the relentless Kamegai, Soto-Karass may very well be riding off until the sunset.
In the first round it was clear that Kamegai wanted to target Soto-Karass's body to see how much Soto-Karass had left in the tank. Now this was a different strategy for Kamegai as he is usually a head hunter, so I know that this boxing game plan threw Soto-Karass off.
Check out these great t-shirts provided by Potshot Boxing's (PSB) Championship Tees By PSB!
Soto-Karass started out with a good combination to the body of Kamegai. Kamegai come forward and landed some body and head shots of his own. Neither fighter gave the other fighter an inch in the first round as they traded vicious shots in the middle of the ring.
The first big shot would be scored by Kamegai as he landed a vicious left hook to the body that stopped Soto-Karass in his tracks. Kamegai moved forward to try and finish Soto-Karass early, but Soto-Karass used his legs and actually landed a good left uppercut on Kamegai that stopped Kamegai's action for a moment. It was a good first round for Yoshihiro Kamegai.
Non-stop leather was dished out in the second round as Soto-Karass got off first with some good combination punching to Kamegai's body. Kamegai would land a one, two of his own of Soto-Karass. Again, neither fighter would give the other fighter an inch. Soto-Karass was getting the better of Kamegai in the second round with that good combination punching.
However, Kamegai just kept moving forward! Kamegai's relentless aggression forced Soto-Karass to continue to throw punches to try to keep him at bay. Kamegai started to land more bruising body shots on Soto-Karass in the second round; while Soto-Karass started to mix in some good uppercuts on Kamegai. Boxing World, this was only round 2 and these two fighters produced more action in 2 rounds then some fights produced in an entire fight.
Potshot Boxing brings to you a collection of Boxing T-shirts that features current, past, and future boxing events!
In round 3, Kamegai backed Soto-Karass against the ropes and started to land more hard shots to the head and body of Soto-Karass. Soto-Karass tried to fight his way out of the phone booth by landing some good counter hooks to Kamegai's head.
As round 3 continued, the boxing world actually witnessed some surprising defense from Kamegai as he moved his head to get out of the way of some of Soto-Karass's punches. Kamegai pulled out all of the stops in this fight.
These two fighters would trade unforgiving shots down the stretch in round 3 as some of the Forum boxing crowd cringed at some of the brutal leather that was being dished out by these two fighters. The target practice for these two fighters would continue in round 4.
One, two after one, two would land for Soto-Karass and Kamegai, however, it was Kamegai's body punching that was getting the better of Soto-Karass. Kamegai continued to rip Soto-Karass to the body in round 5. Soto-Karass was throwing hard shots with bad intentions, but Kamegai countered him well.
Kamegai amused the Forum boxing crowd with some good head movement which the boxing world has never really seen before. It was just a good boxing game plan laid out by Kamegai and his boxing camp. More phone booth action took place in round 6 as Kamegai continued to unleash serious body punching on Soto-Karass.
Soto-Karass got some good shots in of his own, but he was started to wilt a little in round 6. Kamegai landed a solid left hook to Soto-Karass's body that wilted him even more. As round 6 continued, Kamegai started to mix in some good hooks and straight shots to the head of Soto-Karass as Soto-Karass did not have an answer for Kamegai's immense pressure.
Soto-Karass showed heart by continuing to fight, but Kamegai continued to back him up and pour on the beating. Soto-Karass would continue to show heart in the 7th round as he tried to soften Kamegai's attack with some shots to the body. Soto-Karass's effort did not stop Kamegai, however, as Kamegai caught him with another perfect left hook to the body that send him stumbling back against the ropes.
Get the Undisputed Truth by Mike Tyson here at PSB. Own it today!
Kamegai would continue the beating on Soto-Karass as he landed a brutal barrage of punches that left Soto-Karass trying to hold on to him for dear life. The referee step into the middle of the clinch to ask Soto- Karass if he was okay.
Soto-Karass said "yes," thus, the fight continued. Kamegai continue to back Soto-Karass against the ropes in the 7th round and cracked him with more brutal head and body shots. Soto-Karass would come back with a beautiful right hand and left hook to the body of Kamegai that stunned him.
Soto-Karass would continue his never say die assault as he whacked Kamegai with another short left hook, followed by a good combination to the body. Man, that's boxing for you. Just an exciting fight! As round 7 was coming down the stretch, Kamegai would seize control of the fight again as he landed a hard right hook on Soto-Karass's body that put Soto-Karass's back against the ropes.
Kamegai missed a punch on Soto-Karass against the ropes and found himself yo-yoed inside of the ropes. Soto-Karass hit Kamegai with a one, two to the body as Kamegai was hung in the ropes. The referee warned Soto-Karass for the dirty play as this epic 7th round concluded. It was a good round for Soto-Karass.
In round 8, Kamegai continued his vicious assault on Soto-Karass's body. Soto-Karass seemed to have gained new life in round 8 as he tried to counter Kamegai on the inside. As round 8 continued, these two fighters continued to tattoo each other with vicious bone-crushing shots to the head and body. Just as Soto-Karass landed a good one, two across Kamegai's body, Kamegai came back with a counter left hook to Soto-Karass's body, followed by a right hook to the head the sent Soto-Karass staggering into Kamegai as he tried to hold on once again for dear life.
As Soto-Karass was stumbling into Kamegai; Kamegai held his hands straight out to let the referee know that it was not him holding. After the referee untangled the two fighters, Kamegai ran over to Soto-Karass and landed a crushing left uppercut, followed by a right hook that finally sent Soto-Karass to the canvas.
Soto-Karass would barely beat the count of 10. Soto-Karass would fight on as he continued to hold on for dear life, but Kamegai lowered the boom on him with another left uppercut, followed by a vicious barrage of punches. It was clear that Soto-Karass was on dream street, but his heart would not let him quit!
Soto-Karass would take big shot after big shot as round 8 came to an end. After round 8, Soto-Karass's corner let Referee know immediately that Soto-Karass could not continue, and Yoshihiro Kamegai was awarded the 8th round KO Victory.
Get Colin Kaepernick's NFL Football Jersey right here!
Conclusion
Kamegai and his corner did a great job changing up the boxing game plan on Soto-Karass and his corner in this rematch. Instead of head hunting, Kamegai turned his attention to Soto-Karass's body which proved to be a recipe for victory for the human punching bag that is Yoshihiro Kamegai.
Soto-Karass needed to be rescued from himself in this fight, because he would have continued until there was nothing left. Will Soto-Karass fight again? Only time will tell.
Yoshihiro Kamegai does not get enough love for his all-action offense so this was a good opportunity to give him love. Also, it doesn't hurt that he beat a once good fighter in Jesus Soto-Karass. If Kamegai can somehow clean up his defense, and continue to transform into a body punching destroyer, he can give everyone in the 154 pound division a run for their money.
For more boxing news and articles continue to visit www.potshotboxing.com. If you like this post and other's from Potshot Boxing, feel free to subscribe to this boxing website by entering your email address into the floating email form provided on this post! Potshot Boxing – "Boxing news and article bites for all walks of life."