The month of November produced the rise and fall of fighters in the boxing landscape. The boxing world witnessed Tyson Fury derail the Klitschko Train, Timothy Bradley increase his status as one of the best fighters in the world, the continuing rise of Errol Spence, Jr., and a boxing war between Francisco Vargas and Takashi Miura.
The Vargas/Miura fight received serious consideration for Potshot Boxing's (PSB) Fight of the Month for November 2015, but there was an epic super fight that took place in November that slightly edged out the Vargas/Miura fight for PSB's Fight of the Month for 2015. That fight was the WBC middleweight title fight between Miguel 'Junito' Cotto and Saul 'Canelo' Alvarez.
Heading into the fight we all knew that Canelo would be the bigger and stronger fighter, but the question would be whether or not Canelo could deal with the unbelievable boxing experience and pedigree that Miguel Cotto brought to the table.
Put Cash in Your Bank Account Fast. Learn how here!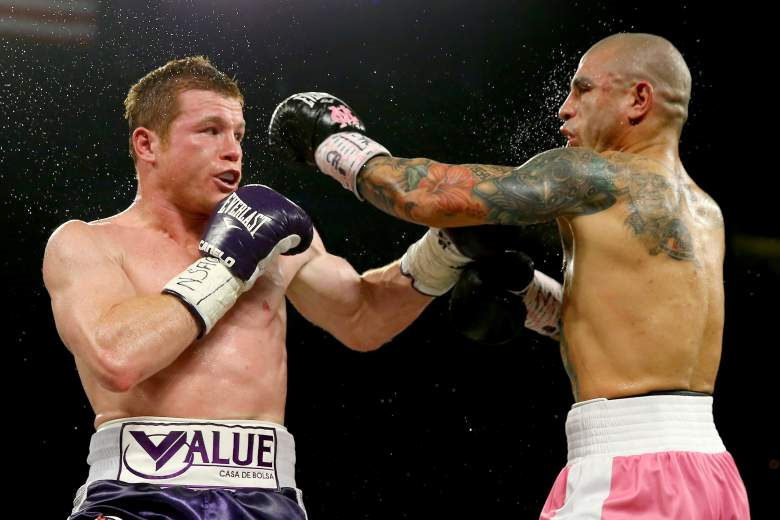 Well these 2 fighters gave the Mandalay Bay Hotel & Casino crowd a pugilist encounter to remember. The 1st round started with both guys throwing a hook that just missed each other's face. As the round continued, Canelo landed a sharp body punch that got the attention of Cotto.
Cotto came back with some great jabs of his own as he tried to establish his status in the fight. The 2 fighters would exchange vicious body shots as the 1st round came to an end.
In round 2, Cotto landed some hard right hands to Canelo's head. Both fighters continued to land vicious shots to each other's bodies. As the round continued, Cotto started to get his jab going as he landed some solid jabs on Canelo. Canelo put his stamp on the 2nd round by throwing and landing some flashy combinations on Cotto as the crowd screamed "Canelo! Canelo! Canelo!"
The 2 fighters continued to box each other in the 3rd. Canelo would open up a little as the round moved on as he landed some sharp counter shots on Cotto. Cotto would come back with a good right hand on Canelo followed by some accurate jabs.
Both guys did some great work in the 3rd round, but it was Canelo's body punching and counter punches that would win the 3rd.
The chess match would continue in round 4 as the 2 fighters would go back to cautiously boxing each other. The fight was beautifully controlled in the middle of the ring by both fighters as the 2 fighters started to throw some serious leather. Cotto landed a vicious body shot and a left hook. Canelo came back with a hard right hand to the body of his own as the fight would heat up between these 2 great fighters.
Like Doritos? Get a Doritos Sample here!   
Cotto would land a brutal combination on Canelo as round 5 began. As the round continued, Canelo landed a huge right hand to Cotto's dome followed by a hard left hand to Cotto's body that sparked a mini slugfest in the ring as Cotto came back with a vicious combination of his own. Canelo's unforgiving power punching started to back Cotto up. As round 5th round ended, I had Canelo slightly winning, but it was from the 6th round on that would prove to be the demise of Miguel Cotto.
Canelo continued to back up Cotto with vicious power punching in the 6th round. Cotto landed some good body shots of his own, but Cotto was taking himself more and more out of the fight by the minute by fighting backwards.
Canelo's vicious body punching continued to back up Cotto in the 7th round. Cotto would try and move forward a little more in round 7, but nothing Cotto threw effected Canelo in this fight.
Canelo would start off the 8th round by landing a crisp left uppercut that sent tingling up Cotto's spine. Canelo would mix in some accurate jabs to set up more big shots on Cotto. As the round went on, Cotto would put his stamp on the fight as he landed some hard body shots on Canelo's ribcage that momentarily stopped Canelo in his tracks.
Canelo would combat the body punching of Cotto by landing some eye-popping counter uppercuts that got the crowd off their feet. Just some good clean action! Cotto's big round would continue as he landed a big left hook on Canelo and a beautiful combination. Round 8 was not only the best round for Cotto, but also the best round of the night in my humble opinion.
In round 9, Cotto would continue to mount a comeback as he started to land some good jabs to the head and body of Canelo. As the round went on, Cotto continued to work the body of Canelo as the 1st half of round 9 was owned by Cotto.
Dirty Secret Makes You Live to 1,000? 
Canelo would change the momentum of the 9th round, however, with a hard left hook that stunned Cotto. Cotto would come back with some hard body shots of his own, but Canelo would land some sensational hooks in the 9th that may have stolen the 9th round from underneath Cotto's feet.
The fight would return to the middle of the ring in round 10 as Canelo's power would continue to back Cotto up. Cotto landed body shots on Canelo, but he shook off Cotto's punches and continued to walk through Cotto. Cotto would land a hard right hand towards the end of the 10th, but it was Canelo's power punching that would surge the 10th in his favor.
In round 11, Cotto would land a huge overhand right on Canelo that got the crowd jumping as you could see Canelo's sweat fly away from his head. Cotto continued his assault as he started to back Canelo up for a change.
Cotto's straightforward movement and good boxing won the 11th in my humble opinion as it seem as though Canelo took a round off the get ready for the big finale.
By round 12, I had Canelo winning by 4 points on my scorecard so in my humble opinion, if Cotto wanted to win the fight he would need an unbelievable knockout to do it.
In round 12, Canelo started off by landing some huge shots on Cotto which got the Mandalay Bay boxing crowd jumping with excitement again. I admire Canelo for not setting on his lead in the fight, but instead, going for the knockout of one of the best fighters in this era that is Miguel Cotto.
Here is a system proven to permanently melt away chunks of fat off your body!
Cotto would show championship heart as he did everything in his power to keep the bigger Canelo off of him, but Canelo would continue to seek and destroy him as the 2 fighters would trade vicious hooks, body shots, and uppercuts to the appreciation of the Mandalay Bay crowd.
Canelo would punctuate the 12th round with a vicious left body shot that seemed to zap all of the steam out of Cotto. At this point, Cotto would just do enough to survive the round and the fight.
This fight would go to the judges' scorecards. Judge Burt Clements scored the fight 118-110, Judge Dave Moretti scored the fight 119-109, and Judge John McKaie scored the fight 117-111 all for the winner and New WBC middleweight champion of the world Saul 'Canelo' Alvarez.
Conclusion
Miguel Cotto got overwhelmed by the vicious power punching of Canelo Alvarez. Both fighters had a great boxing game plan, but Alvarez's size and power proved to be too daunting for Cotto. Also, Cotto did not back up Alvarez which also added to his demise in this fight.
Not sure what's next for Cotto, but the next opponent I hope will step into the ring for the much improved Canelo Alvarez will be another rising star that is Gennady 'GGG' Golovkin.
FanDuel! One-Week Fantasy Football Leagues for Real Money! Join Now. Leagues start at $1!
For more boxing news and articles continue to visit www.potshotboxing.com. If you like this post and other's from Potshot Boxing, feel free to subscribe to this boxing website by entering your email address into the floating email form provided on this post! Potshot Boxing – "Boxing news and article bites for all walks of life."