Here is PSB's prediction for the upcoming junior middleweight fight between Saul "Canelo" Alvarez and Erislandy "The American Dream" Lara.
Showtime Pay-Per-View will once again paint another great chapter in the history of boxing when "The New Golden Boy" Canelo Alvarez and Erislandy "The American Dream" Lara take center ring at the MGM Grand Hotel & Casino on Saturday, July 12, 2014.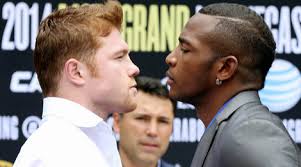 Both fighters are eagerly awaiting to get into the ring and exchange punches with each other after all of the trash talking that has been going on between these two fighters leading up to this fight.
The fight in a nutshell will pit a classic boxer-puncher in Canelo, and an elusive boxer in Lara. This should be a great fight because even though both of these fighters like to stay behind their jab en route to setting up counters and combinations; they also like to move forward and be aggressive which could make for an explosive extravaganza.
I expect for Canelo to take on the aggressor role in this fight by moving forward behind his jab while using his size and unbelievable power to try and wear down Lara.
I expect for Lara to come out and use his elusive boxing skills to try and counter the aggressive Canelo by setting traps for Canelo when Canelo tries to get inside on Lara.
This fight is going to have a lot of cat and mouse action going on because both of these fighters are boxers first, but can explode on their opponent at any moment.
So who wins?
This is a very dangerous fight for Canelo Alvarez because Erislandy Lara is a fighter that is mostly underrated and overlooked by the boxing world. Let's remember, Lara got absolutely robbed back in 2011 by Paul "The Punisher" Williams. At that time, Williams was a volume puncher with devastating power that just about every fighter from 147 pounds to 160 pounds was afraid to fight, and Lara cleaned Williams's clock with counter left hand after counter left hand.
The judges gave the gift decision to Paul Williams, but the whole world knows that Erislandy Lara won that fight.
Lara has beaten a lot of pressure fighters in his professional boxing career. Now Canelo is one of those boxer-puncher types of fighters so Lara needs to be careful in this fight. If I had to pick a fighter for this fight, I am sorry Boxing World, but I think Erislandy Lara has all of the tools to upset Canelo Alvarez in a very close fight.
Prediction: Erislandy Lara by split-decision victory.
For more boxing news and articles continue to visit www.potshotboxing.com. If you like this post and other's from Potshot Boxing, feel free to spread the word to your favorite social media channels with your friends and family!! Potshot Boxing – "Boxing news and article bites for all walks of life."