Here is Potshot Boxing's (PSB) Prediction for the upcoming Terence Crawford vs. Viktor Postol WBO/WBC junior welterweight unification title fight.  
What a great HBO Pay-Per-View fight we have on our hands July 23, 2016 as Terence Crawford and Viktor Postol will headline the Vegas skyline with a blockbuster fight. The WBO and WBC junior welterweight titles will be the prize for the winner of this fight, along with major fights ahead in the future.
This is definitely the most dangerous fight for Terence 'Bud' Crawford as he faces a guy in Postol who has the same undefeated record as he does at 28-0, and a fighter who can box really well, particularly with the jab being his most prized weapon.
Check out these great t-shirts provided by Potshot Boxing's (PSB) Championship Tees By PSB!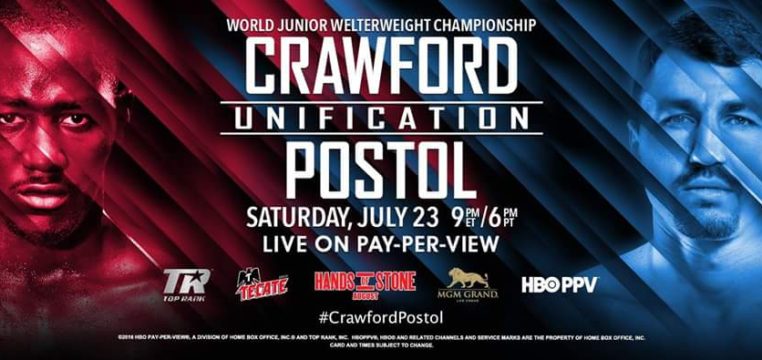 How will Crawford be able to get around that great long jab of Postol's? I expect it to be very difficult for Crawford, but I feel that Crawford and his trainer will find a way to apply enough pressure to force Postol to pack in that jab.
Viktor Postol surprised a lot of the boxing world when he stopped the ultra-aggressive Lucas Matthysse back in October of 2015. In that fight, Postol showed the boxing world his stiff long jab and counterpunching, which led to the demise of Matthysse. Can he repeat that performance on July 23 against Crawford?
So who wins? I expect for Postol to try and bait Crawford into being the aggressor in this fight in hopes of unleashing that great jab, while setting up some good counterpunching in the process. I expect for Crawford to start off slow in this fight as he will try to collect some Postol data in order to explode in him in the late rounds.
Get ready Boxing World, because this if going to be a great Pay-Per-View fight! It is a fight that will the most important fight for both of these great fighters boxing careers. A win for either fighter will propel them into future pound 4 pound discussions. Heck, Crawford is already #10 on Potshot Boxing's (PSB) Pound 4 Pound List, and he is most likely on other Pound 4 Pound List as well, so a win for him will be monumental.
Can Terence 'Bud' Crawford get pass another young and hungry undefeated fighter in Viktor Postol to cement his superstardom in the sport? As tough as it is going to be for Crawford on July 23, 2015, I will have to say that Crawford will find a way to pull this tough fight out in dramatic fashion.
Prediction: Terence 'Bud' Crawford by Knockout
Lose weight, have fun, and be healthy! Get started in 3 easy steps! 
For more boxing news and articles continue to visit www.potshotboxing.com. If you like this post and other's from Potshot Boxing, feel free to subscribe to this boxing website by entering your email address into the floating email form provided on this post! Potshot Boxing – "Boxing news and article bites for all walks of life."