On April 25, 2015, the legitimate heavyweight champion of the world Wladimir Klitschko will finally make his return to the U.S. when he defends his WBA (Super), IBF, WBO, and RING heavyweight titles against Bryant "By By" Jennings.
It has been 7 long years since Klitschko has defended his title on American soil and now he returns back to the scene of the crime at Madison Square Garden where he last fought in America 7 years ago to defend his heavyweight titles against Jennings.
Fanduel is the official Sponsor of Floyd Mayweather, Jr.! Play Fanduel for a chance win tickets to Las Vegas to see the May 2 May/Pac fight!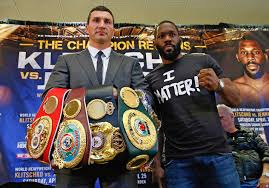 So how is this fight going to go?  Well, like every other Klitschko opponent, in order to derail the "Klitschko Train," Jennings will have to try and get inside of the Klitschko jab and hammer Klitschko's body as much as possible.
I expect for Klitschko to do what he always do and that is use his superior left jab to bore boxing fans yet again as he will jab, jab, cross and jab, jab, cross his way in hopes of frustrating Jennings so much that Jennings does not see the big right hand shot coming which will end Jennings' night. One thing I noticed about Klitschko is he's now hooking off the left jab which makes him even more dangerous in this fight.
I expect for Jennings to use some good side to side movement to try and get inside and land some punishment on Klitschko.  Jennings does have a good reach and may try to use that to his advantage in this fight. The real question, however, will be whether or not he can make Klitschko work every second of every round by controlling the pace and beating up Klitschko's body in hopes of tiring Klitschko out late.
Klitschko's stamina issues have improved tremendously over the last 3 years so unless Jennings can get lucky and land something big on the inside, I just do not see America getting another heavyweight champion on Saturday, April 25, 2015.  Trust me Boxing World, I would love to see America get another heavyweight champion of the world and I would be super exited for Jennings if that happens.
I just feel, however, that in the end Klitschko will control the pace of this fight, and land that overhand right that will end the night for Jennings.  So "By By" Jennings.
Prediction: "Dr. Steelhammer" Wladimir Klitschko by Knockout
Check out Potshot Boxing's (PSB) Store for some cool t-shirts, hats, mugs, and other great merchandise!
For more boxing news and articles continue to visit www.potshotboxing.com. If you like this post and other's from Potshot Boxing, feel free to subscribe to this boxing website by entering your email address into the floating email form provided on this post! Potshot Boxing – "Boxing news and article bites for all walks of life."