Here is Potshot Boxing's Prediction for the upcoming heavyweight championship fight between Wladimir Klitschko and Alexander Povetkin!!
Check out this great DVD about The Klitschko Brothers entitled "Klitschko!"
Well another trip to Moscow, Russia for another heavyweight title defense for Wladimir "Dr. Steelhammer Klitschko, (60-3-0, 51 KO's) as finally the undefeated Alexander "White Lion" Povetkin, (26-0-0, 18 KO's) will get his shot at heavyweight supremacy when these two fighters meet on October 5, 2013 for Klitschko's IBF, WBO, (Super) WBA, IBO, and Ring heavyweight titles.
The difference in this fight, however, is for the first time in a long time Wladimir will not have home field advantage in this fight as Povetkin is a fellow Russian so the house should be filled with a good amount of Povetkin supporters to even out the barrage of Klitschko supporters.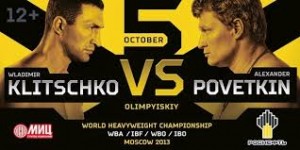 Photo Credit: plus.google.com
The White Lion was suppose to have gotten a shot at the heavyweight crown way before now, but many felt that his camp held him back from facing Klitschko about 2 to 3 years ago. Well now that fight is here and Povetkin has nowhere else to go now but to fight Klitschko given that he has beaten all of the heavyweight contenders who are worthy of a shot at the Klitschkos.
So the question that will always be asked when it comes to keys to victory on how to beat Klitschko is can the opponent get inside of the Klitschko jab and do some damage on the inside?
Well, trying to get inside and do damage is the only chance Povetkin will have in this fight as Wladimir is great at fighting backwards, standing straight up and sticking that beautiful jab in the face of his opponents so Povetkin will have to do everything he can to get inside and stop the rhythm of Wladimir, pressure him, and try to wear down Wladimir with a constant work rate.
This is an easy fight to predict because any Klitschko fight will boil down to whether or not a fighter can use effective pressure to get inside to do damage; and for the first time in a long time, I will give a heavyweight fighter a serious chance to derail the Klitschko Train. The undefeated Povetkin has what it takes to give Klitschko some serious trouble and I expect a good, good fight. I just feel, however, that Povetkin will run out of time.
Prediction: Klitschko by 12 round unanimous decision
Check out this great DVD about The Klitschko Brothers entitled "Klitschko!"
For more boxing news and articles continue to visit www.potshotboxing.com. If you like this post and other's from Potshot Boxing, feel free to spread the word to your favorite social media channels with your friends and family!! Potshot Boxing – "Boxing news and article bites for all walks of life."