Here is a recap of another dominant performance by Heavyweight Champ Wladimir Klitschko!!
Wladimir Klitschko used his experience in championship fights to out-maneuver the determined Alexander Povetkin en route to a unanimous 12 round decision victory to retain his IBF, WBO, (Super) WBA, IBO, and Ring heavyweight titles.
Win $1,500 towards the ultimate tailgate party!
Klitschko did a lot of leaning on Povetkin in this fight, as well as hitting Povetkin with short uppercuts in the inside during the clinches and he threw Povetkin down several times in the fight, yet he was never warned about these tactics from the referee for the majority of the fight.
Besides the questionable tactics by Klitschko, he still fought a great fight as once again Klitschko used that straight left jab to keep Povetkin's surging offense at bay.  Povetkin gave it a good go though as he did get inside a lot in this fight, but he was getting tied up and leaned on by Klitschko while taking short uppercuts to the head for his troubles.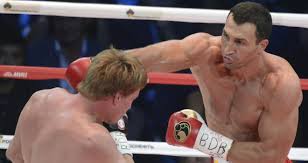 Photo Credit: www1.skysports.com
Povetkin's game plan was good, but Povetkin just did not do enough when he got inside of the Klitschko jab as I felt he should have did more body work instead of head hunting the whole night like he did.
Povetkin was knocked down for the first time in his professional boxing career in the 2nd round of this fight by a straight left jab that the champion landed on Povetkin's face. Klitschko knocked Povetkin down three more times in the 7th round and closed the show with good boxing as he kept his distance in the middle in the ring and at times surprised the boxing world by attacking Povetkin as it looked as though Klitschko wanted to go for the knockout instead of cruise to a 12 round decision.
Check out this great DVD entitled "Klitschko!" This is the story of the Wladimir and Vitali Klitschko!
Nevertheless, Klitschko finally had a point taken away from him in the 11th round for pushing down Povetkin, but the referee was a day late and dollar short as the fight was already in the bag for Klitschko as he had been getting away with questionable tactics the whole night.
The fight ended up going the distance and Klitschko was awarded the 12 round unanimous decision victory, thus, handing Povetkin the first loss of his professional boxing career.
Conclusion
Povetkin was a good undefeated fighter that fought Klitschko hard tonight and Klitschko made this fight look easy.  I was impressed with Klitschko's condition tonight as he did not look tired going down the strectch in this fight.
If Klitschko can dominant a good fighter like Povetkin, who is definately a top-notch fighter, then I am not sure who is going to beat Wladimir Klitschko.
Win $1,500 towards the ultimate tailgate party!
For more boxing news and articles continue to visit www.potshotboxing.com. If you like this post and other's from Potshot Boxing, feel free to spread the word to your favorite social media channels with your friends and family!! Potshot Boxing – "Boxing news and article bites for all walks of life."