On January 27, 2015, Floyd Mayweather, Jr. and Manny Pacquiao met in person for the very first time at a Miami Heat basketball game.
So….Mayweather and Pacquiao were at the same place, at the same time, but not in a boxing ring.  So….what did they talk about?  Did they talk about a potential showdown with each other?  Who knows?  Maybe, Boxing World, we could potentially be closing in on the biggest fight in the history of boxing.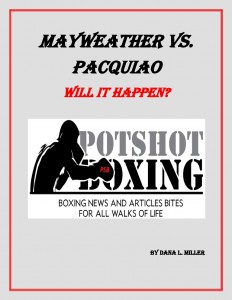 During the exchange between the 2 fighters at the Miami Heat game, it did look as though the exchange was pleasant so this could be a good sign that the fight will happen.  Furthermore, after the meeting between the 2 on the Miami Heat basketball court, Mayweather and Pacquiao would meet privately with each other to discuss terms for a possible showdown on May 2.
It was good to see Mayweather and Pacquiao at least talking in front of the public, but the question still remains whether or not this fight will happen or not.  The fight between Floyd Mayweather, Jr. vs. Manny Pacquiao has been the only fight that the boxing public has exclusively demanded to see for the past 5 or 6 years, but will it happen?
Check out Potshot Boxing's (PSB) new book, "Mayweather vs. Pacquiao: Will it happen?"   This short book takes an in-depth look into the many reasons why a potential mega-fight between the 2 best fighters in the sport of boxing; Floyd Mayweather vs. Manny Pacquiao may never happen.
We are so close to Mayweather and Pacquiao getting it on so I do hope that they can move the obstacles outlined in Potshot Boxing's (PSB) new book and finally give the Boxing World the fight we have all be dreaming of for many years now.
For more boxing news and articles continue to visit www.potshotboxing.com. If you like this post and other's from Potshot Boxing, feel free to spread the word to your favorite social media channels with your friends and family!! Potshot Boxing – "Boxing news and article bites for all walks of life."