Which fighter will be the next in line for the Number 2 Pound for Pound King of the world?
Andre "S.O.G." Ward.  He is the number 2 pound for pound fighter world, yet he has not had a fighter to dance with in 2013.  The boxing world is ready to see S.O.G.; the fighter who has not lost a fight since he was a teen.
The last time Ward was in the ring was back in September of 2012, when he found himself in a showdown with then 175 pound king "Bad" Chad Dawson in which his (Super)WBA, WBC and Ring super middleweight titles were at stake.
In that fight Ward was able to impose his will on Dawson as he dropped "Bad" Chad in the 3rd round, the 4th round, and the 10th round.  When Ward dropped Dawson in the 10th round, Dawson look at the referee and said "I'm done."  Ward was awarded the 10th round tko victory in perhaps the best boxing performance of his career.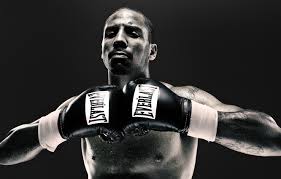 Credit: sportsnippets.com
After the Dawson fight in September of 2012, Ward was set to defend his super middleweight titles against Kelly "The Ghost" Pavlik in January of 2013, but the fight was cancelled due to a shoulder injury that Ward needed to have surgery on.
With all of this said, once the number 2 pound for pound king heal from the shoulder injury, he will have a lot of hungry fighters ranging from the middleweight division to the light heavyweight division ready and willing to take his head off….so here is my top 5 list of fighters ranging from middleweight to light heavyweight who I feel will have a great shot at facing Ward in the near future.
Number 5: Adonis "Superman" Stevenson |Light Heavyweight| this knockout king was responsible for one of the best knockouts of 2013 when he caught "Bad" Chad Dawson with a beautiful short left hook that floored Dawson which led to the referee stopping the fight in round 1 and Stevenson was awarded an impressive 1st  round tko victory.
Stevenson's next fight will be against Tavoris "Thunder" Cloud.  In Cloud's last fight he was fooled into thinking the Father Times had finally beaten the great Bernard Hopkins and was literally shut out against the ageless wonder B-Hop so I am not sure that Cloud has recovered enough to even compete with this knockout king Stevenson when he and Stevenson collide.
Stevenson would be a great match up for Ward if Stevenson would move down to 168 for Ward, or if they can meet at a catch weight, either way, Ward would need to watch out because this knockout king can end the night with one punch.
Number 4: Julio Cesar Chavez, Jr. |Middleweight| Chavez, Jr. is indeed coming off of the first professional boxing loss of his career who he got embarrassed by the middleweight king Sergio Martinez, but if he can get back to his winning ways in his next fight coming up in September, then I believe that he will be a great matchup for Ward because let's face it, a lot of times when you look at Chavez, Jr. he can pass for a light heavyweight.
Chavez, Jr. may give Ward a run for his money given that Chavez, Jr. has great power and endurance, and I feel Chavez, Jr. will be a little more comfortable at super middleweight than middleweight.
Number 3: Robert Stieglitz |Super Middleweight| Stieglitz is the current WBO super middleweight champion and he has either stopped or knocked out his last three opponents including Arthur Abraham back in March of this year to capture the WBO super middleweight championship in a fight in which Stieglitz avenged his loss to Abraham when Abraham beat him back in August of 2012.
This is a fighter who has had his ups and downs in the past couple of years, but he is gaining some serious momentum as this German champion does not have anyone to go toe to toe with as of yet so here is a great opponent that the boxing world can be satisfied with if Ward decides to fight this skillful champion.
Number 2: "The Executioner" Bernard Hopkins |Light Heavyweight| the great Bernard Hopkins, one of the greatest middleweights of all time, he is becoming one of the best light heavyweights of all time, and when B-Hop finishes the fight game, he will definitely be one of the best fighters in boxing history.
In saying all of this, I truly do not believe that a fight with Hopkins and Ward will happen, but this is definitely what you can call a boxing dream match.
In B-Hop's last fight, he simply out-smarted the younger Tavoris Cloud in their March of 2013 showdown and at times, Cloud just looked befuddled in the ring as Hopkins danced and sometimes even clowned at Cloud making Cloud look like a B fighter on that night.  In the end, it was the great Bernard Hopkins who stole Cloud's thunder.
B-Hop has a fight coming up in late October against Karo Murat and even in this fight, I see B-Hop mesmerizing Murat with his superior boxing skills and tactics…yes, tactics.  In saying all of that, though, a fight between the legendary Hopkins and Ward may not happen, but if Ward wants a great hall of fame name on his resume and some big money to go with it, Hopkins could be Ward's guy.  Be careful though Ward, because B-Hop at the age of 48 is still a viable threat if you two guys decide to dance.
Number 1:  And the number one guy Andre Ward may face when he returns to boxing may be a rematch with Carl "The Cobra" Froch.  Notice Lucian Bute is not on this list, gee I wonder why?  Oh yeah, Froch took out Bute in stunning fashion back in May of last year to capture the IBF super middleweight title.
All of the boxing world was clamoring for a Ward/Bute showdown, but Froch ended all of that non-sense in one fight. In the fight between Froch and Bute, the boxing critics did not give The Cobra any chance to win, but with his hometown crowd backing him on that spring night, Froch was able to dominate the favored Bute from start to finish to win the fight by a 5th round TKO.
In his last fight, Froch avenged the first loss of his career when he beat Mikkel Kessler to capture the WBA super middleweight championship.  I know that if given a chance this super middleweight world champion will love to get a shot at avenging the second loss of his career that he suffered at the hands of Andre Ward, the question is will Ward give Froch that chance.
Conclusion
Andre "S.O.G." Ward is as gifted as they come, and yes, he is by far deserving of the number 2 pound for pound ranking.  Look Ward his not lost a fight since he was a teenager and he is only getting better and better at this craft called boxing.
All of these fighters that I feel should get a shot at the number 2 pound for pound king are all legitimate opponents for Ward to impressively stack on his hall of fame building resume.
I do, however, feel that if Ward were to step in the ring against any of these fighters with the exception of the Great Bernard Hopkins, I feel that Ward can easily out pointed them or even stop these fighters as we have all seen him do throughout his professional boxing career so far.
I will always give B-Hop the benefit of the doubt against any fighter because you just never know who B-Hop will outsmart next.
The thing I like about Ward is that he can not only box, but he can get gully in that ring at times which makes him a great fighter to watch.  Ward will be the next overall pound for pound king when Floyd Mayweather, Jr. leaves the game of boxing, but for now, we all just have to sit back and wait to see who the number 2 pound for pound king will face next.