Wow! It was a great night of boxing action on October 3, 2015!  HBO Boxing and Showtime Boxing owned Saturday night as HBO featured the vacant WBC junior welterweight title fight between Lucas Matthysse and undefeated contender Viktor Postol, and Showtime featured the return of Adrien Broner in his vacant WBA junior welterweight title fight with Khabib Allakhverdiev.
Both fights were great as one fight surprised me and the other fight let me know where one fighter needs to fight going forward.  Okay so let's start with the fight that surprised me: Lucas Matthysse vs. Viktor Postol
FanDuel! One-Week Fantasy Football Leagues for Real Money! Join Now. Leagues start at $1!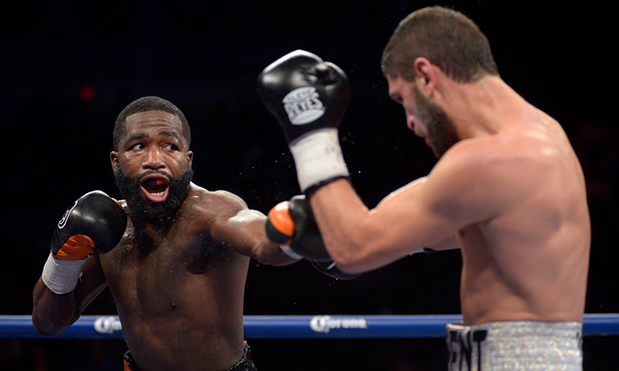 Heading into the fight, I knew that Postol was an undefeated contender who was long and could give Matthysse some problems if he stands straight up and box Matthysse given that Matthysse is so short.  Now, I felt that Matthysse would find a way to get inside and impose his will on Postol who is known for not having much power, but I was dead wrong.
Oh sure Matthysse whacked Postol with looping right hands over the top the entire night when the 2 fighters were in the clinch, but Postol showed true patience as he slowly but surely broke Matthysse down with sneaky jabs and combinations to the body of Matthysse.  When this fight began, it look as though Matthysse was going to overwhelm Postol with major pressure, but Postol would hold on to Matthysse a lot in this fight when he got inside to prevent him from landing anything significant.
Postol was warned twice by the referee in this fight for holding, but if I was facing Matthysse, I probably would have held him too.  Anyway, the great Roy Jones, Jr. made a great point in this fight and that was when Matthysse did get on the inside of Postol's jab, he did not follow up with any punches to hurt Postol on the inside which allowed Postol to wrap him up and smother his punches.
Matthysse got the StubHub Center going with his big left and right hooks that landed on Postol in round 7, but Postol took the fight over with his sneaky calculated jab and body work that wore Matthysse down late.  In round 9, Postol destroyed Matthysse with eye-catching punches that got the attention of the boxing world.  If you do not know Viktor Postol; Boxing World, you do now.
In round 10, Matthysse came out trying to stalk Postol again and got caught by a perfect straight right hand that sent him to the canvas.  The referee started the count, Matthysse just stayed on the canvas as if he did not want anymore of Postol's accurate assault.
The referee reached the count of 10 and Viktor 'The IceMan' Postol was awarded the impressive and surprisingly 10th round knockout victory to capture the vacant WBC junior welterweight title.
Like Doritos? Get a Doritos Sample here!
Now for the fight that made me realize that one of the fighters need to continue to fight at 140 pounds going forward: Adrien Broner vs. Khabib Allakhverdiev.
Adrien Broner simply put on a homecoming performance for his Cincinnati, Ohio boxing crowd.  The U.S. Bank Arena received their hometown superstar with open arms and their favorite son did not disappoint them.  Broner used his speed and elusiveness to outclass Allakhverdiev from start to finish in this vacant WBA junior welterweight title fight.
Allakhverdiev just came in with the wrong game plan as he actually tried to box the ever so elusive Broner which spelled trouble for him from the outset.  Allakhverdiev was target practice for Broner's quick uppercuts, jabs, and combinations.  Broner could not miss counterpunches as he peppered Allakhverdiev with them at every turn in this fight.
Broner really started to heat up in the 6th round as he continues to connect on Allakhverdiev with hard will-breaking shots that made you wonder why Allakhverdiev's corner kept sending him out of the corner to fight Broner.  By round 8, Broner was so comfortable in the ring with Allakhverdiev; he started to showboat by talking to people outside of the ring including Showtime Analysis and former boxing champ Paulie Malignaggi, (Former IBF junior welterweight and WBA welterweight champion.)
By round 9, Allakhverdiev's face was showing the effects of the brutal head and body work that Broner inflicted on him.  Allakhverdiev tried to pressure Broner in some rounds in this fight, but by then he had already allowed Broner to get into his boxing rhythm and when that happens, Broner is tough customer for everyone he faces.
Broner continued to pummel Allakhverdiev in rounds 10, 11, and 12 as he tried to step up the pace for his beloved Cincinnati to get the stoppage.  Well Adrien 'The Problem' Broner did not disappoint as he connected with another vicious combination on Allakhverdiev in the 12th round and the referee stopped the fight.
Broner was awarded the 12th round TKO victory, thus, becoming the 2nd youngest fighter in boxing history to win world titles in 4 different weight classes.  The youngest fighter to do it is 'The Golden Boy' Oscar De La Hoya.
Conclusion
Viktor Postol answered the question I had about this fight with a bang and that was whether or not he could deal with Lucas Matthysse's pressure.  I had the same question for the Broner vs. Allakhverdiev fight, but I did not know that Allakhverdiev would leave his pressure offense in a Cincinnati hotel on October 3, 2015.
Postol did a great job in this fight by using his height and reach to keep Matthysse at the end of his jab which set up the sneaky power shots to the body.  It was simply a clinic for Postol.
Postol has put himself in a great position after the win over Matthysse because there are a lot of top 140 pounders who would love to get in there and mix it up with the undefeated Postol. Cannot wait to see which junior welterweight will try and take Postol's '0' away from him.
Broner whipped Allakhverdiev from pillar to post in their fight.  If Broner stays at 140 pounds he would be a world beater because his speed and power could easily be the recipe for becoming the best 140 pounder in the sport.  The best thing I liked about Broner is his demeanor heading into the fight.  He came in focused and ready to work which you can tell he did not do in his losses to Marcos 'El Chino' Maidana and Shawn 'Showtime' Porter.
I am not sure where Lucas Matthysse will go from here, but we all know that whoever his next opponent is, win or lose, Matthysse will always be embraced by the fans for his all-action boxing style.
Lose weight, have fun, and be healthy! Get started in 3 easy steps!
For more boxing news and articles continue to visit www.potshotboxing.com. If you like this post and other's from Potshot Boxing, feel free to subscribe to this boxing website by entering your email address into the floating email form provided on this post! Potshot Boxing – "Boxing news and article bites for all walks of life."