A very long time ago when former undefeated women's champion Laila Ali, the Daughter of the Great Muhammad Ali, was dominating the sport of Women's Boxing, she took on all challengers.  Laila even took on knockout sensation Christy Martin back in August of 2003 when a lot of women fighters were avoiding Martin, and she knocked Martin out in 4 rounds.
FanDuel! One-Week Fantasy Football Leagues for Real Money! Join Now. Leagues start at $1!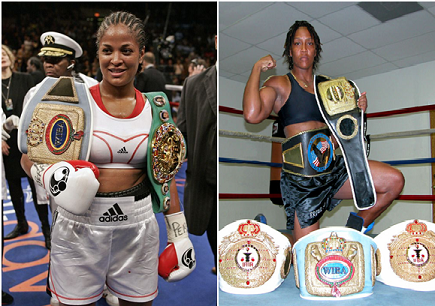 Laila Ali would go on to have a great professional women's boxing career, but there is one fighter in particular that the boxing world still wonders to this day if Ali could have gotten past, and that fighter is Ann Wolfe.  Ann 'Brown Sugar' Wolfe was a terror when she was boxing as she put the fear of God in a lot of women fighters during her professional boxing career.
Wolfe is well known for her brutal knockout of Vonda 'All-American Girl' Ward that is still circulating all over social media.  Her knockout of Vonda Ward was one of the most brutal knockouts in all of women's and men's boxing history. After finishing her boxing career, Wolfe would go on to become a boxing trainer.
She is well known for training junior middleweight James 'The Mandingo Warrior' Kirkland to a world title. Matter of fact, James Kirkland has never lost a fight when he had Ann Wolfe in his corner as a trainer.
Wolfe was on record many times trying to get a fight with Ali over the years, but that fight never came into fruition.  So boxing world, what if the Laila Ali vs. Ann Wolfe would have happened? Would Ali have gotten past the ferocious Wolfe?  Check out Potshot Boxing's (PSB) latest boxing poll at the bottom of this post and vote.

Loading ...
Autumn Calabrese's 21-Day Fix! Lose up to 15 pounds in 21 days with easy to follow 21-day portion control system.
For more boxing news and articles continue to visit www.potshotboxing.com. If you like this post and other's from Potshot Boxing, feel free to subscribe to this boxing website by entering your email address into the floating email form provided on this post! Potshot Boxing – "Boxing news and article bites for all walks of life."