If Floyd 'Money' Mayweather, Jr. would have fought Ronald 'Winky' Wright at junior middleweight back in the day, that would have been a dream matchup for the ages.  Winky had that great high guard defense and Floyd has that signature shoulder roll.
Make Valentine's Day SPECIAL with a Zales Gift Card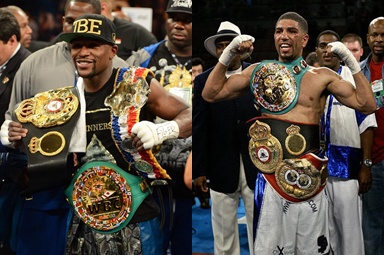 Both fighters have superior defensive skills and Winky would have given Mayweather a little trouble in my humble opinion at 154 given how he hid behind his high guard and shot out the jab and straight shots.  If this fight would have happened years ago, it probably would have been a tossup fight because Winky was a true junior middleweight and Floyd would have been moving up to fight Winky.
So who wins this dream fight? Floyd Mayweather, Jr. or Winky Wright?  Check out Potshot Boxing's (PSB) latest boxing poll and vote.  Also feel free to leave a comment at the bottom of this post as to why you feel either Floyd 'Money' Mayweather, Jr. or Ronald 'Winky' Wright would win this fight.

Loading ...
For more boxing news and articles continue to visit www.potshotboxing.com. If you like this post and other's from Potshot Boxing, feel free to subscribe to this boxing website by entering your email address into the floating email form provided on this post! Potshot Boxing – "Boxing news and article bites for all walks of life."