Both of these fighters are gamed and ready for tonight's showdown as Manny Pacquiao and Timothy Bradley look to be a great shape.  Manny Pacquiao weighed in at 145 lbs. and Bradley weighed in at 145.5 lbs.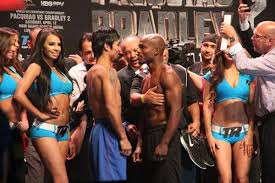 Photo Credit: sherdog.com
After the weigh-in Bradley stated that he will try and knock out Pacquiao tomorrow night and Pacquiao stated that it is not going to be easy for Bradley to knock him out.  This is going to be one heck of a showdown tomorrow night because if Bradley is truly going to go for the knockout against Pacquiao; this can possibly be a candidate for Fight of the Year.