So Maidana or Khan?  Well now we have an answer as Floyd "Money" Mayweather, Jr. decided to choose the potentially more exciting fight against Marcos Maidana than an easy sure thing against Amir Khan.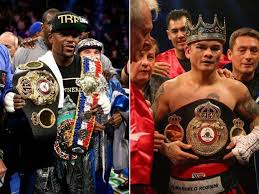 Photo Credit: independent.co.uk
Showtime PPV will feature the Mayweather/Maidana showdown as Floyd Mayweather, Jr., (45-0-0, 26 KOs) will be defending his WBC and RING welterweight titles; and Marcos Maidana, (35-3-0, 31 KOs) will be defending his WBA welterweight title in this winner take all showdown.
The MGM Grand Hotel & Casino in Las Vegas, Nevada will once again be the location for a Floyd Mayweather extravaganza as the upcoming fight with Maidana will mark the 9th straight fight that the MGM Grand Hotel & Casino will be the location for Floyd Mayweather to lace the gloves up and put on another great show for the boxing world.
Will Mayweather get revenge for his good friend Adrien Broner or can Maidana shock the world?
Cannot wait to see this fight!!