Here is PSB's Prediction for the upcoming "Vicious" Victory Ortiz vs. Luis Collazo fight!!
This fight has to potential be a great fight as both of these fighters love to come straightforward and put unbelievable pressure on their opponents so I expect a lot of action in this fight between Victor Ortiz, (29-4-2, 22 KO's) and Luis Collazo, (34-5-0, 17 KOs.)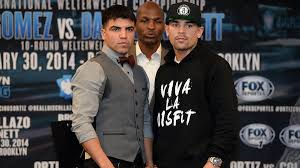 Photo Credit: behindthegloves.com
In the past, Collazo's toughness and aggressive boxing style has given great fighters like Andre Berto and "Sugar" Shane Mosley problems as Collazo lost very close decisions to both Berto and Mosley; so I expect for Collazo to try and overwhelm Ortiz in this fight with his effective aggression.
Victor Ortiz will not back down in this fight, however, as I expect for Ortiz to start out throwing bombs from the opening bell as he will try to match the intensity of Collazo as again, both of these fighters love to use their effective aggressiveness to overwhelm their opponents.
Both of these fighters will brawl, so the question for this fight will be which one of these fighters will slow down their slugger boxing style and box.
I am not sure which of these fighters will choose to box; if any one of them at all, so I will be expecting an exciting fight that will end with a vicious knockout for one of these fighters.
Prediction Ortiz by Knockout
For more boxing news and articles continue to visit www.potshotboxing.com. If you like this post and other's from Potshot Boxing, feel free to spread the word to your favorite social media channels with your friends and family!! Potshot Boxing – "Boxing news and article bites for all walks of life."