Two-time Olympic Gold Medalist Vasyl "Hi-Tech" Lomachenko of the Ukraine will look to make boxing history as he will compete for a professional boxing world title in only his second professional fight when he challenges Orlando "Siri" Salido on March 1, 2014 for Salido's WBO featherweight title.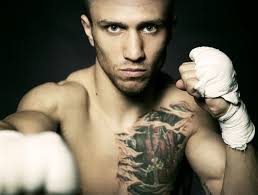 Photo Credit: profiboksz.hu
No boxer in the history of boxing has ever won a world boxing title in their 2nd professional boxing match which makes the March 1, 2014 fight between Salido and Lomachenko a very intriguing one.
Lomachenko looked very impressive in his first professional fight as he knocked out his opponent in the 4th round with a vicious body shot.
Now Lomachenko will set his sights on Orlando Salido; a fighter that will not be easy for Lomachenko to chop down so if Lomachenko can pull off this incredible feet of capturing a world title in only his 2nd professional boxing match; it will definitely be impressive given the caliber of fighter he will be facing on March 1.