Okay Boxing World, so we all know that the WBA, WBO, and IBO heavyweight title fight between Tyson Fury and Wladimir Klitschko has been postponed for a second time. Now what we all thought that the reason the November 29 fight was postponed for a second time was due to Fury's mental issues.
FanDuel Fantasy Football! You could be winning right now. Sign up today!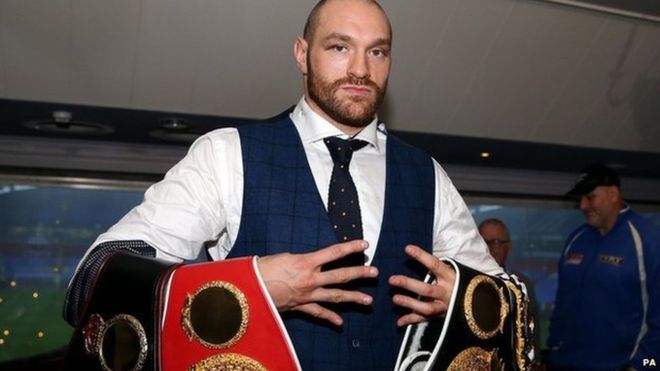 Well, it turns out that Tyson Fury tested positive for the substance benzoylecgonine. This substance is a compound found in cocaine. Fury turned in a random urine test on September 22, 2016, and the results from that test came back positive.
So Boxing World, what do you think of Fury's situation now? I truly hope that Fury can get his act together because he is a very entertaining personality in the sport of Boxing. Testing positive for cocaine, however, can be categorized as having a mental issue in my humble opinion.
Fury will have time now to get help and hopefully get back into the ring at some point in the future.
Check out these great t-shirts provided by Potshot Boxing's (PSB) Championship Tees By PSB!
For more boxing news and articles continue to visit www.potshotboxing.com. If you like this post and other's from Potshot Boxing, feel free to subscribe to this boxing website by entering your email address into the floating email form provided on this post! Potshot Boxing – "Boxing news and article bites for all walks of life."