Well "Only in America" Don King is in the mix of more controversy as he may be the main reason why the Shane Mosley vs. Ricardo Mayorga rematch may get scratched.  Due to a contract dispute, King is prepared to scratch his fighter Ricardo Mayorga from the August 29, 2015 Pay-Per-View rematch with Shane Mosley.
Like Doritos? Get a Doritos Sample here!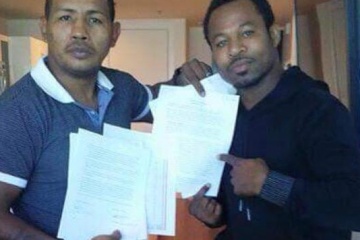 King filed a lawsuit to stop this fight and there is a court proceeding that will take place on Monday, August 24, 2015 in Miami, Florida to determine whether or not Mayorga will be Mosley's opponent on August 29, 2015.
If Ricardo Mayorga is indeed scratched from the Pay-Per-View event on August 29, 2015, then Shane Mosley is still prepared to move on to another opponent and keep the August 29th date at the Forum in Inglewood, California.
The fight between Shane Mosley and Ricardo Mayorga would be a pretty good fight in my opinion given how awkward Mayorga's boxing style is, but if he is scratched, who will be Mosley's opponent?  There are reports that "King" Gabriel Rosado may possibly be the replacement for Mayorga, but will he be able to produce enough fireworks to satisfy a Pay-Per-View fight?
Well Boxing World, let's just sit back and see how all of this controversy plays out.
FanDuel! One-Week Fantasy Football Leagues for Real Money! Join Now. Leagues start at $1!
For more boxing news and articles continue to visit www.potshotboxing.com. If you like this post and other's from Potshot Boxing, feel free to subscribe to this boxing website by entering your email address into the floating email form provided on this post! Potshot Boxing – "Boxing news and article bites for all walks of life."