Wow!! Gennady Golovkin was the clear winner of the Golovkin/Chocolatito HBO Boxing event as he just walked down Dominic Wade and destroyed him. The Forum boxing crowd was treated to a surefire "Right Hand Show" rather than "The Drama Show" as Golovkin bombed Wade with right hand after right hand as he beat Wade into submission to the pleasure of The Forum boxing crowd.
Get you GGG vs. Wade T-Shirt here.  Not Sold in Stores!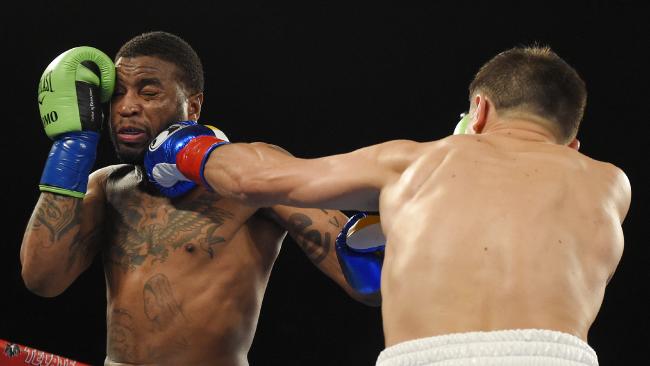 Wade started off well as he used his long jab to land a couple of good shots to Golovkin's body and head. Golovkin, however, would put all of Wade's soft attack to bed early as he landed a solid clubbing right hand over the top that sent Wade crashing to the canvas at the end of round 1. The clubbing right hand by Golovkin proved to be the shot that spelled doom for Wade as he never recovered from that right hand shot heading into the 2nd round.
In the 2nd round, Wade was still reeling from the right hand that was landed at the end of the 1st round by Golovkin as he kind of wobbled around the ring a little in the 2nd, only to meet his short and painful demise. As round 2 went on, Golovkin would catch Wade with a vicious left uppercut, followed by a big right hook that sent Wade to the canvas for the 2nd time in the fight!
Wade would get up from the right hook, but as the referee was asking if he wanted to continue to fight, it was clear that Wade did not want to continue, but continued anyway. The decision by Wade to continue would prove to be lethal for him as Golovkin would catch him with an unforgiving counter right hand shot that sent Wade back to the canvas for the 3rd and last time.
The referee reached the count of 10 and Gennady 'GGG' Golovkin was awarded the 2nd round KO victory to retain his IBF, WBA, and interim WBC middleweight titles. With the win, GGG extends his KO streak to 22.
Conclusion
What a big statement by GGG! He continues to prove to the boxing world that he is one of the most dangerous fighters in the world and that knockout of Wade was nothing short of spectacular! Boxing World, GGG is the real deal.
When asked by HBO Boxing Analyst Max Kellerman if he had anything to say to Saul 'Canelo' Alvarez who will be fighting Amir 'King' Khan on May 7, 2016, GGG responded by saying "It doesn't matter who wins, just give me my belt! I need my belt! I am ready!"
Man I cannot wait to see this destroyer known as Gennady 'GGG' Golovkin fight again.
In other boxing action, Roman 'Chocolatito' Gonzalez put on a great show tonight as well by defending his WBC flyweight title, but GGG stole the show on April 23, 2016.

Loading ...
Who will win the NBA Finals? Tell us and receive a $500 Visa Gift Card! Answer survey here.
For more boxing news and articles continue to visit www.potshotboxing.com. If you like this post and other's from Potshot Boxing, feel free to subscribe to this boxing website by entering your email address into the floating email form provided on this post! Potshot Boxing – "Boxing news and article bites for all walks of life."