Here is Potshot Boxing's (PSB) Prediction for the upcoming Timothy Bradley vs. Juan Manuel Marquez fight!!
Burn fat quicker with the offer!
The great Juan Manuel Marquez, (55-6-1, 40 KO's) will attempt to capture another world title and become the first Mexican fighter to win titles in 5 different weight divisions when he enters the Thomas and Mack Center on October 12, 2013 to face the undefeated and well respected Timothy "Desert Storm" Bradley, (30-0-0, 1 no contest, 12 KO's) for Bradley's WBO welterweight title.
This is a tale of two  fighters who like to box.  I expect for Bradley to start off trying to box with Marquez and then resort back to being aggressive like he usually does once he takes a big shot from Marquez during the fight.  I expect for Marquez to start off slow and then pick his chess game up later on in the fight.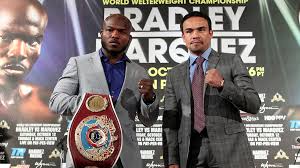 Photo Credit: hbo.com
Marquez has had trouble in the past with pressure fighters in the early rounds so Bradley should try and come out aggressive against Marquez, but if he decides to go with the box Marquez gameplan, then I am not sure if Bradley can win.
If Bradley can start off early as the aggressor in this fight, attack smart, and outwork Marquez, then I give Bradley a great chance to win this fight.
925 Ideas to Help You Save Money, Get Out of Debt and Retire A Millionaire
The only thing that bothers me about Bradley going into this fight is the fact that when he was on HBO's Faceoff with Max Kellerman along with Marquez, he admitted that after his last fight, in which he sustained a lot of punishment, he was rushed to the hospital and also had trouble with his speech.  Man that concerns me about a fighter going into a fight to face such a calculating counterpuncher like the great Juan Manuel Marquez.
Bottom line, Bradley will be gamed going into this fight and he is going to bring the fight to Juan Manuel Marquez.  With a win Bradley can propel himself into the Floyd Mayweather sweepstakes.
If Juan Manuel wins this fight, I am not sure which direction he will go, but I sure hope it will not be a second fight with Mayweather because I do not want to see the great Juan Manuel Marquez trying to win for his dignity again.
So….Bradley will bring his A game as he always do as Bradley will do all he can to stay undefeated, but I just feel that Marquez is also on a mission to cement himself as one of the greatest fighters of all time and I feel that he will not be denied on October 12.
Prediction:  Marquez by 12 round unanimous decision
Burn fat quicker with the offer!
For more boxing news and articles continue to visit www.potshotboxing.com. If you like this post and other's from Potshot Boxing, feel free to spread the word to your favorite social media channels with your friends and family!! Potshot Boxing – "Boxing news and article bites for all walks of life."