Timothy "Desert Storm" Bradley put in one of the best boxing performances of his career on Saturday, June 27, 2015, only to have his efforts marred with questions and controversy.
The StubHub Center in Carson, California witnessed Bradley use good aggression, elusiveness, and ring generalship to outclass the undefeated Jesse Vargas.  Bradley backed up Vargas the entire night, but the one thing I noticed when Bradley and Vargas were exchanging punches on the inside was that Vargas was landing the right hand with regularity on Bradley which I felt would spell doom for Bradley later on in the fight.
Like Doritos? Get a Doritos Sample here!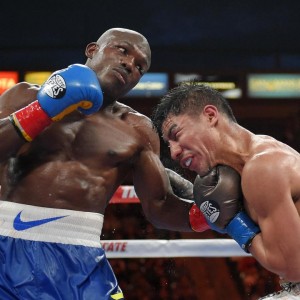 Bradley did a great job in this fight by controlling the distance and landing some hard combo shots to Vargas's head and body.  Vargas, however, did a great job landing a stiff left jab and right hooks that busted up Bradley's face.  Now, the only problem with Vargas's success is that he did not follow up his good jab and hooks with anything else which allowed Bradley to impose his will on him.
Bradley unleashed the whole arsenal on Vargas.  He threw punches in bunches, uppercuts, and whatever else he needed to throw in order to try and regain that WBO welterweight title.
Bradley was winning the fight easy, but by round 9, it look as though Vargas was the real winner given how Bradley's face looked.  Nevertheless, Bradley put on a clinic in this fight, but that one flaw of allowing Vargas to land the right hand reared its ugly head in the 12th round of this fight.
Heading into the 12th round of this fight, I personally had Vargas only winning 2 rounds on my scorecard so in my humble opinion, I felt that Vargas needed a knockout to win.
Personalize Your Calls With Music For Your Callers! Click Here To Sign Up!
In the 12th round, Bradley did not want to leave it in the judges' hands so he started out the 12th like he had done the entire fight by stalking Vargas and landing combinations to his head and body.  Vargas finally started to show some life in the fight as he started to move forward in the 12th in hopes of landing something big as well.
As the 12th round went on, Bradley seized control again by backing Vargas up and landing to his body.  Bradley was cruising to a unanimous decision victory until the moment of truth came for Vargas with 22 seconds left to go in the fight as Vargas caught Bradley with a thunderous overhand right that sent Bradley staggering back into the ropes.
Now, Bradley was clearly out on his feet, but had the experience and heart to remain focused on shaky legs by blocking a lot of Vargas's left hook attempts, and wisely tying up Vargas with 10 seconds to go in the fight.  With 10 seconds to go in the fight, referee Pat Russell thought he heard the bell to end the fight, broke the 2 fighters up, and said "fights over."
Jesse Vargas started to celebrate in his corner is if he thought he won the fight, but the sound that referee Pat Russell heard was not the bell to end the fight, but the signal that there is 10 seconds left to go in the fight, thus, referee Pat Russell prematurely stopped the fight.  Now, I can see how Jesse Vargas interpreted Russell's gesture given how Bradley was hurt, but what Russell meant when he said "fight's over" was it was the end of round 12, thus, the fight is over and needed to go to the judges' scorecards.
After all of the drama was sorted out, and we thankfully did not have to relive Julio Cesar Chavez vs. Meldrick Taylor, this fight went to the judges' scorecards. The judges' scored the fight 115-112, 116-112, and 117-111 all for the winner by 12th round unanimous decision and New WBO welterweight champion of the world, Timothy "Desert Storm" Bradley!
For boxing tickets to upcoming big fights go here…
Conclusion
Timothy Bradley just cannot catch a break!  In his last fight against Diego Chaves, he clearly won the fight, but the judges scored that fight a draw.  Now fast forward to June 27, 2015, Timothy Bradley put on a great performance for the StubHub Center crowd only to have it sabotaged by a bad judgment by referee Pat Russell.
Now, there are a lot of boxing fans and critics who felt that Vargas was robbed of the last 10 seconds of the fight given how Bradley was hurt, but come on Boxing World, Bradley is a true world champion and he clearly would have survived the 12th round so I am not buying that Vargas got robbed of 10 seconds.
Should there be a rematch?  I personally do not think so.  Vargas finally landed the shot that Bradley was susceptible to the entire night, but I feel it is time for Bradley to challenge some bigger fish in the welterweight division.
Here are the boxing results from another fight that  took place on Saturday, June 27, 2015!
Amnat Ruenroeng defeated Johnriel Casimero by 12th round unanimous decision victory to retain his IBF flyweight title.

Loading ...
Need a Tattoo? Find the perfect tattoo here at Infinite Tattoos to print off and take to your local Tattoo Artist to draw on you!
For more boxing news and articles continue to visit www.potshotboxing.com. If you like this post and other's from Potshot Boxing, feel free to subscribe to this boxing website by entering your email address into the floating email form provided on this post! Potshot Boxing – "Boxing news and article bites for all walks of life."