On Saturday, November 7, 2015, the trainer-fighter marriage between Trainer Teddy Atlas and Timothy Bradley is at an all time high for just 7 weeks of working together.  The best thing that Trainer Teddy Atlas has taught Bradley in their short time together is the art of simply staying focus.
In the past, Bradley was well known for staying too long in an opponent's wheelhouse which led to him getting hit with a lot of unnecessary punches.  On November 7, Bradley flipped the script by using his jab, speed, and distance to outclass the heavy Brandon Rios in a very good one-sided fight.
FanDuel! One-Week Fantasy Football Leagues for Real Money! Join Now. Leagues start at $1!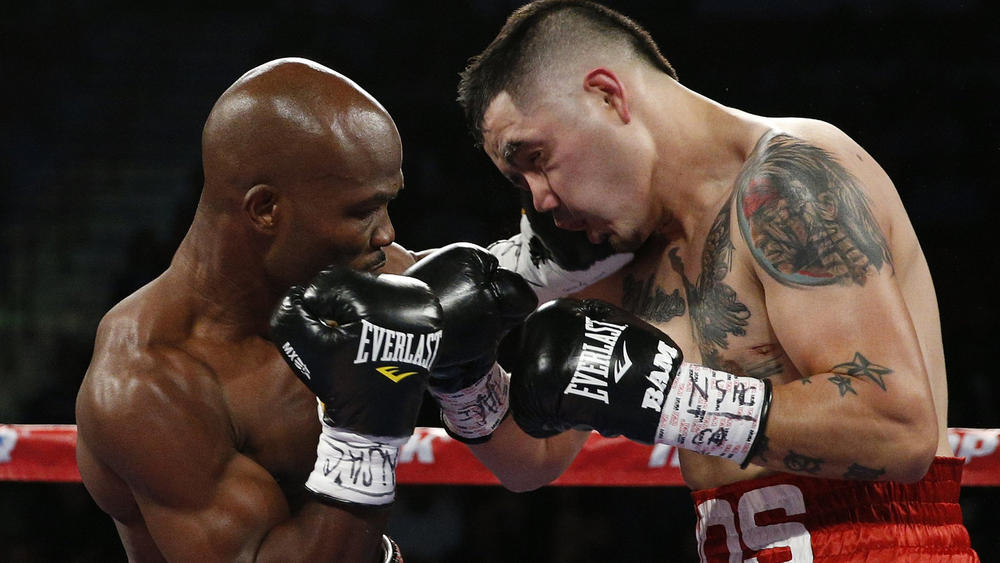 I said before this fight took place that "If Bradley can control his emotions and box, this could be an easy night for him."  Boy was I right to the 10th power!  Bradley looked sensational against Rios.
Bradley starting out in the 1st round using his jab and viciously digging to Rios' body every chance he got in this fight.  Rios tried to cut off the ring on Bradley, but Bradley kept on moving which did not allow Rios to get off those dangerous shots that he hurts fighters with.
In round 2, Bradley started to fall back into some of his old habits as he got caught with a big shot by Rios and went after Rios which turned the fight into Rios' favor.  Trainer Teddy Atlas calmed Bradley down after the 2nd round which led to Bradley coming out in the 3rd round with a better focus.
Every time Rios got close to Bradley in this fight, Bradley would wisely whack Rios with vicious body shots that kept Rios at bay.  In Round 4, Bradley continued to keep the distance by landing crisp accurate punching on Rios as he could not miss with the right hand.  Rios, however, would continue to move forward and apply pressure so Bradley had to continue to stay on his toes and work Rios' body.
Like Doritos? Get a Doritos Sample here!
Bradley separated himself from Rios in this fight for good in round 5 as his speed began to overwhelm Rios.  Bradley started to throw sensational combinations that wowed the Thomas & Mack Center boxing crowd. He just opened the entire bag of tricks on Rios in the 5th.  It was super clear by round 6 that the great movement of Bradley was bothering Rios.
Rios gave it his all by trying to chase Bradley, but Bradley boxed him beautifully as he could not lay a glove on Bradley.  Bradley implemented everything his trainer Teddy Atlas wanted him to do and Atlas still got after Bradley in the corner after the 7th round.  It was shades of "Moorer vs. Holyfield I" in Bradley corner after round 7 as Atlas shouted to Bradley "WE ARE FIREMAN!"
The pep talk got Bradley juices flowing some more as he went out in round 8 and starting clubbing Rios with hard shots to the body again.  It simply just was not Rios' night.
In round 9, Bradley's accumulation of accurate body punching would get the best of Rios as he caught Rios with a sharp left shot to the body that sat Rios down.  Rios got up from the clean body shot only to get pummeled with a barrage of body shots by Bradley that sent him to the canvas for the final time.
The referee stopped the fight and Bradley was awarded the 9th round TKO victory as he climb on the ring ropes and shrugged his shoulders as if to say "Was that good enough for you Boxing World?"  With the win, Timothy 'Desert Storm' Bradley retained his WBO welterweight title.
During the post-fight interview, an emotional Brandon Rios announced to the world that he is retiring. "My body not the same anymore, I've been in a lot of wars, you know what, it think it is time to hang it up," says Rios.
Lose weight, have fun, and be healthy! Get started in 3 easy steps!
Conclusion
Great performance by Timothy 'Desert Storm' Bradley in this fight!  He fought like he should have been fighting his entire boxing career.  His new trainer Teddy Atlas may be the best thing that ever happened to him because Atlas reminds him that he is a boxer and not a brawler.  Also, Atlas is teaching Bradley that it is okay to get caught by a big shot and stick to your boxing game plan.
Rios caught Bradley with a good shot early in the 2nd round.  Now the old Timothy Bradley would have tried to get Rios back; and he did try in this fight, but the new Bradley come out and listened to his corner and continue the journey of boxing on Rios.
As for Brandon 'Bam Bam' Rios, if this is really the end for him, the boxing world is really going to miss him because of his unbelievable determination and grit to break down fighters.  I truly hope that the retirement talk by Rios was just emotions, but if not, the boxing world was treated to one heck of a brave fighter.
For more boxing news and articles continue to visit www.potshotboxing.com. If you like this post and other's from Potshot Boxing, feel free to subscribe to this boxing website by entering your email address into the floating email form provided on this post! Potshot Boxing – "Boxing news and article bites for all walks of life."