Here is a recap of last night's boxing Middleweight  Showdown between Miguel "Junito" Cotto and Sergio "Maravilla" Martinez!!
Madison Square Garden witnessed boxing history as Miguel Cotto put on one of the best performances of his professional boxing career and simply destroy the Middleweight Champion of the world in the process.
Miguel Cotto put the pedal to the medal from start to finish in this fight as he used some unbelievable pressure to overwhelm Sergio Martinez as Martinez was never able to recover from the pressure that Cotto brought to him in this fight.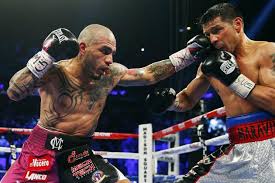 Photo Credit: bleacherreport.com
In round 1, Cotto's great pressure on Martinez led to 3 knockdowns of Martinez in the first round alone. Cotto connected left hook after left hook on Martinez; as we all know that Martinez fight with his hands below his waist and for the fight it bit him in the backside last night as Cotto took advantage of Martinez's lazy boxing style all night long.
Martinez would whether the early storm, but I believe his hurt knee did not allow him to move and put any kind of stamp on this fight so I felt that this fight was really over after the 1st round. Martinez had some moments in the fight, but none of Martinez's punches had any effect on Cotto as Martinez just could not plant properly on his hurt knee to inflict any real punishment on Cotto. Cotto turned back the clock and simply took advantage of Martinez's inability to move due to his hurt knee by throwing multiple left hooks and landing crushing body shots that also debilitated Martinez in this fight.
Cotto looked like the Cotto of old which was that power punching destroyer from back in the day that used to end fighters' careers caused by his vicious power punching. Martinez just could not get out of the way of Cotto's punches and was just helpless due to his bum knee.
Cotto's continued pressure would led to one more knockdown on Martinez in the 9th round as Martinez's gloves touched the canvas. Again, left hooks, pressure, and devastating body punching from Miguel Cotto sealed Martinez's fate as Martinez gave it all he could, but his body and bum knee would not allow him to go on. Martinez's corner asked for a stoppage and the referee stopped the fight.
Miguel Cotto was awarded the 10th round TKO victory, and he is now the New WBC and RING middleweight champion of the world, thus, he becomes the 1st Puerto Rican fighter to win world titles in 4 different weight divisions.
Conclusion
What a great night for Miguel Cotto!! You have to give a lot of credit to Cotto's trainer Freddie Roach for putting together a great fight plan for Cotto as he realized going into the fight that Martinez was not going to be one hundred percent due to the hurt knee; so putting overwhelming pressure on Martinez from start to finish would test the strength and endurance of Martinez's knee and Cotto did just that as he blew Martinez away from the start so great job by Freddie Roach.
My question is; and take nothing away from Cotto because he did what he was supposed to do and this is execute; but did Martinez have more than a bum knee that was bothering him going into the fight, because Martinez almost looked like he did not want to be there last night.
In any case, Cotto looked like he was back in his prime last night as he destroys Martinez albeit Martinez had some aliments in this fight. Should there be a rematch between these two? I don't think so because I feel that Martinez needs to get somewhere and do even try to fight again until his whole body his completely healed. As for Cotto, I expect for him and Freddie Roach to look for some fresh meat; and there are a lot of great fights that can happen at middleweight for Cotto so the boxing world will have to wait and see which direction the New Middleweight Champ will go in the near future.
For more boxing news and articles continue to visit www.potshotboxing.com. If you like this post and other's from Potshot Boxing, feel free to spread the word to your favorite social media channels with your friends and family!! Potshot Boxing – "Boxing news and article bites for all walks of life."