The Mandalay Bay Resort & Casino is going to witness a surefire blow for blow war on November 21, 2015.  Miguel Cotto, (40-4-0, 33 KO's) was recently stripped of his WBC middleweight title, but that is not going to stop him from giving the boxing world a great show.  Sanctioning fees was the reason for Cotto's stripping.
Canelo Alvarez, (45-1-1, 32 KO's) on the hand, did pay the sanctioning fees to capture the WBC middleweight title so if he defeats Cotto on November 21, 2015, then he will be crowned with the WBC middleweight title.  On to the prediction!
FanDuel! One-Week Fantasy Football Leagues for Real Money! Join Now. Leagues start at $1!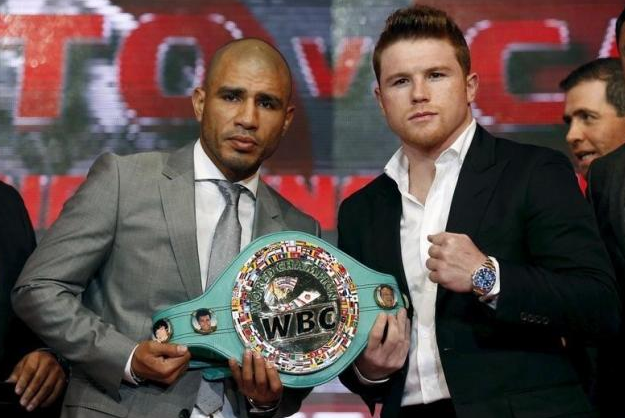 So who will be the aggressor in this fight?  Cotto or Canelo?  Well I expect for Canelo to be the aggressor in this fight as he will try to use effective pressure to get Cotto off balance in hopes of finishing Cotto late.  In all of Cotto's losses with the exception of his loss to Floyd Mayweather, Jr., 'PRESSURE' was the key catalyst in his demise as Antonio Margarito and Manny Pacquiao impose their wills on Cotto en route to late stoppages of Cotto.
I expect for Miguel Cotto to move and try to dig to Canelo's body every chance he gets on November 21.  Canelo has a habit of standing in spots during the fight and I expect for Cotto to take advantage of Canelo's pauses in action with some heavy power punches.  This is going to be a great fight!
So who wins?
This fight will boil down to whether or not Canelo can impose his will on Cotto.  Canelo will be the bigger and stronger fighter heading into the fight, but in the end, I feel that Cotto's experience and heavy body punching will take its toll on Canelo in what some boxing fans would call an upset, but not me.
Prediction: Miguel 'Junito' Cotto by Unanimous Decision
Like Doritos? Get a Doritos Sample here!
For more boxing news and articles continue to visit www.potshotboxing.com. If you like this post and other's from Potshot Boxing, feel free to subscribe to this boxing website by entering your email address into the floating email form provided on this post! Potshot Boxing – "Boxing news and article bites for all walks of life."