Here is a look back at the Manny Pacquiao great comeback performance against Brandon Rios!!
Get an Immortal Manny Pacquiao T-Shirt here at PSB!!
Well the art of action fighting did not disappoint in China last night as Pacquiao and Rios banged with each other all night.  There was only one problem though, the PacMan did a lot of calculating banging on Rios while Rios was trying to lure Pacquiao in to land one big shot.
Long story short, Rios was simply the perfect opponent for the PacMan to get his boxing career back on track and to look ahead at bigger fish in the welterweight division.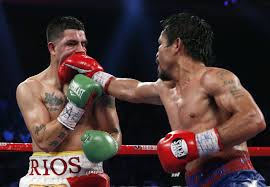 Photo Credit: scmp.com
Rios stood in front of Pacquiao the whole night and tried to use his aggressive fight style to get to Pacquiao.  Pacquiao obliged Rios' fight game by taking advantage of the straightforwardness of Rios by simply circling Rios and punishing him round after round with that straight left hand and hard combinations to the body.
Rios landed some decent hooks of his own in the fight, but Pacquiao just did not allow Rios to get off his punches at all in this fight as the PacMan fought a very smart fight by throwing his combinations and stepping out of danger en route to a shut out unanimous decision victory.
Conclusion
Rios took a lot of punishment in the fight from Pacquiao, much like his buddy Antonio Margarito took when he faced Pacquiao.  I believe Pacquiao allowed the fight to go the distance just so he could inflict more punishment on Rios to get back at the Rios camp for mocking the illness of his trainer Freddie Roach.
I give Rios a lot of credit because he took a lot of brutal punches from Pacquiao and just kept coming after Pacquiao in hopes of braking Pacquiao's will; but come on boxing world this is Pacquiao.
So what's next for these fighters?  Rios did not really lose any credibility by fighting Pacquiao; however, Rios will be looked at as an easy target for fighters in the future as I am sure the fighters in the welterweight division and beyond will try and institute the same gameplan that Pacquiao used to beat Rios last night.
As for the PacMan, he is right back in the mix as one of the best pound for pound fighters in the world, and whoever the PacMan face off against in the future, he is going to be a handful to deal with given that he did not take too much punishment from Rios.
Get an Immortal Manny Pacquiao T-Shirt here at PSB!!
For more boxing news and articles continue to visit www.potshotboxing.com. If you like this post and other's from Potshot Boxing, feel free to spread the word to your favorite social media channels with your friends and family!! Potshot Boxing – "Boxing news and article bites for all walks of life."