Check out the "New School" boxing showdown between Crawford and Gamboa on Saturday, June 28, 2014!!  The two fighters weighed-in a couple of hours ago. 
Two of the boxing's future stars will square off in an undefeated showdown when Terence "Bud" Crawford make his first title defense of the WBO lightweight crown in his hometown of Omaha, Nebraska against Yuriorkis Gamboa. This should be a great matchup of two young fighters who agreed to fight each other at such a critical stage in their professional boxing careers.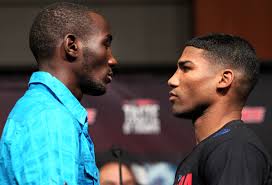 Photo Credit: boxinginsider.com
The boxing world really appreciates it when two fighters go ahead and fight each other when the boxing world demands it rather than fighters ducking each other for two or three years before finally making a showdown happen.
These two fighters are similar in a lot of ways as both of these fighters are quick, heck, Crawford and Gamboa even have identical undefeated boxing records which stands at 23 wins 0 losses, with 16 of their wins coming by way of knockout. In any case, somebody's young "0" must go!!
This is going to be a very special fight that will take place on June 28, 2014. No matter who wins or loses this fight, I believe that neither one of these fighters will lose any stock because both of these fighters represent the next generation of great fighters.
Here are the weigh-in results for the upcoming WBO lightweight title fight between Terence Crawford and Yuriorkis Gamboa:
Champion: Terence "Bud" Crawford – 134.8 lbs.
Challenger: Yuriorkis Gamboa – 134.4 lbs.