Terence Crawford continues to impress the boxing world as this time he takes his show from his backyard in Omaha, Nebraska to Madison Square Garden in New York.  The Madison Square Garden crowd was treated to high drama as 'Hammerin' Hank Lundy did not come to New York to lay down for Crawford, but rather brought the fight to Crawford early on which produced good action for as long as the fight lasted.
Heading into the fight, Lundy wanted to let the boxing world know that he was coming to Madison Square Garden to take that WBO junior welterweight title away from Crawford.  Well, somebody should have told Crawford that.
Get a loan quick, easy, and secure.  Receive up to $2,500 in your account as quickly as tomorrow!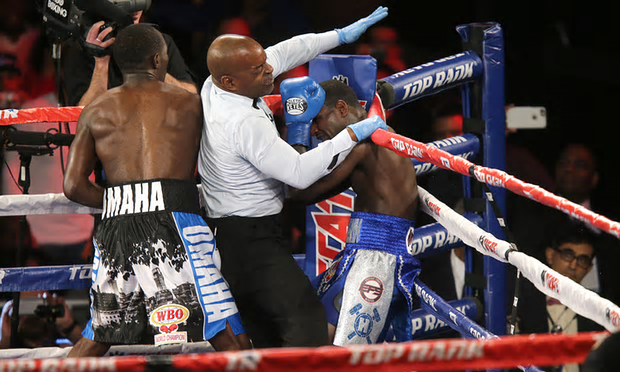 Both fighters started out using the jab in the 1st round.  Lundy is well known for staying cautious and boxing smartly in fights, but he started out guns blazing as he landed the 1st big punch in the fight.  Crawford seemed tight again in this fight as it seemed as though Crawford was feeling out Lundy in the early rounds before he decided to explode on him.
As round 1 moved on, Lundy continued to sell out with wild shots which backed Crawford up.  Lundy won the 1st round emphatically with his aggressive approach.
In round 2, Lundy settled back down and started to box Crawford, while Crawford was still in feel out mode.  Lundy landed some good jabs on Crawford in the 2nd, but Crawford was starting to target Lundy's forehead with the right hand in hopes of catching Lundy with the left.
Lundy continued to fire away with jabs in round 3, but Crawford was starting to land some accurate shots on Lundy which gave the boxing world an indication that Crawford has gotten out of feel out mode and was ready to open up with combinations and power shots.  Crawford caught Lundy with a hard right hand as round 3 was coming to an end.
In round 4, both fighters settled down and started back boxing each other as the fight turned into a game of cat and mouse.  Now, just when you thought the Crawford and Lundy was settling for boxing each other, a fight broke out in round 4 as the 2 fighters traded devastating hard shots in the middle of the ring to the satisfaction of the Madison Square Garden crowd.
Lose weight, have fun, and be healthy! Get started in 3 easy steps!
As round 4 was coming to an end, Lundy cracked Crawford with a hard left hand that could have won him that 4th round.  Well Boxing World, we will never know because in round 5, Crawford figured out the Lundy puzzle and proceed to walk him down.  Crawford landed a hard left hand on Lundy that sent Lundy wobbling.
Crawford stayed on top of Lundy by shooting the double right jab and followed it up with a solid straight left hand that sent Lundy crashing to the canvas.  Lundy got up from the knockdown, but he was clearly still on dream street.  Crawford closed the show with an unforgiving flurry on Lundy, Lundy was not responding back, and the referee stopped the fight.
Terence 'Bud' Crawford was awarded the impressive 5th round TKO victory to retain his WBO junior welterweight title.
Conclusion
Terence Crawford always starts out slow in his fights, but he sure does collect enough boxing data in time to explode on his opponents an impressive fashion.  Hank Lundy found out the hard way.
Lundy felt the fight got stopped prematurely, but there were times in the last moments of this fight where he took some serious leather, and he did not respond back so I felt that it was a good stoppage by the referee.
So what's next for Terence Crawford?  Well Crawford is getting better and better so I would love to see him in the ring with anyone from 140 to 147 pounds.  According to Crawford's promoter Bob Arum, Ruslan Provodnikov may be Crawford's next huckleberry.  If that is the case, that would be a great fight for the boxing world.
No matter whether its Ruslan Provodnikov or not, the boxing world will be waiting in anticipation to see Crawford in the ring again.
Beyoncé – The Formation World Tour Tickets! Get tickets here!
For more boxing news and articles continue to visit www.potshotboxing.com. If you like this post and other's from Potshot Boxing, feel free to subscribe to this boxing website by entering your email address into the floating email form provided on this post! Potshot Boxing – "Boxing news and article bites for all walks of life."