Check out this recap of Antonio Tarver's outstanding performance in his heavyweight division debut!!
Get a small cash loan before your next paycheck! Find out how here!
Antonio "Magic Man" Tarver is giving the American heavyweight landscape some hope in derailing the Klitschko Train as he looked very impressive last night in his heavyweight debut against a tough and rugged heavyweight in Mike Sheppard.
In rounds 1 through 3 Tarver simply boxed beautifully as he used his great jab to keep Sheppard at bay while mixing in some good uppercuts and power shots to the body to soften up Sheppard.
And then came the 4th round!!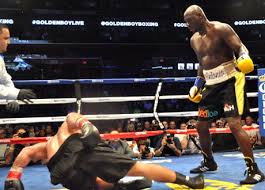 Photo Credit: fightnews.com
Early in the 4th round, Tarver caught Sheppard with a sensational left uppercut that sent Sheppard crashing to the canvas.  Sheppard got up from that left uppercut shot only to get punish some more as Tarver threw a barrage of body shots that sent Sheppard back to the canvas.  Sheppard got up again and then Tarver closed the show with a vicious counter left hook to the head of Sheppard that sent Sheppard down for the 3rd and final time in the fight as the referee stopped the fight and ended the vicious assault that Tarver put on Sheppard.
Tarver was awarded the 4th round TKO victory and captured the interim NABA heavyweight title in the process.
Conclusion
Tarver stated that he has a 1 year plan to become heavyweight champion.  He admitted that he is not ready to compete for the heavyweight championship at the moment, but he feels that when he is ready he will be able to beat any heavyweight.
If Antonio Tarver can do what he did last night in his next 2 to 3 fights, then I do feel that he should compete for the world heavyweight title because I do agree with Antonio Tarver regarding the heavyweight landscape and that is Antonio does have a better boxing resume than all of the heavyweight pool at the moment; not only that; it just seems like that last 7 to 8 years the Klitschkos have been fighting a carousel of heavyweights who just did not have the skills to get around that famous Klitschko jab; I believe Tarver has the skills.
I believe that in a year, with the exception of heavyweight contender Bermane Stiverne, Tarver should be the only heavyweight that can realistically threaten the Klitschko Train.
Get a small cash loan before your next paycheck! Find out how here!
For more boxing news and articles continue to visit www.potshotboxing.com. If you like this post and other's from Potshot Boxing, feel free to spread the word to your favorite social media channels with your friends and family!! Potshot Boxing – "Boxing news and article bites for all walks of life."