Here is the Tale of the Tape for the upcoming light-heavyweight unification fight between Bernard "The Alien" Hopkins vs. Sergey "Krusher" Kovalev!
Tonight's light-heavyweight unification fight is one of the most anticipated fights in the light-heavyweight division in a long time as the great Bernard Hopkins will have an answer for the boxing world soon as to whether or not he can befuddle another up and coming light-heavyweight.  If Hopkins wins tonight, not only will Hopkins shock Sergey Kovalev, but he will befuddle the boxing world as well.
Beats Studio Wireless headphones deliver the sound quality that made Beats by Dr. Dre famous!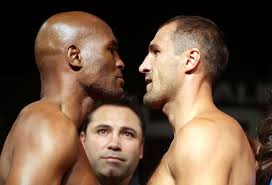 Sergey Kovalev is preparing to treat Hopkins like an old man tonight.  Up to this point, every young fighter has had a plan heading into the ring to fight the reigning champion over Father Times Bernard Hopkins only to have their plans spoiled by the wisdom and slickness of Hopkins.
Can Kovalev pull off the victory en route to superstardom?  Only tonight will tell as Hopkins and Kovalev will get it on in front of the Boardwalk Hall crowd in Atlantic City, New Jersey.
Let's see how these two fighters match up!
Tale of the Tape: Bernard Hopkins vs. Sergey Kovalev
| | |
| --- | --- |
| Bernard "The Alien" Hopkins | Sergey "Krusher" Kovalev |
| Age: 49 | Age: 31 |
| Boxing Record: 55-6-2, 2 no contest, 32 KOs | Boxing Record: 25-0-1, 23 KOs |
| Height: 6 feet 1 inches | Height: 6 feet 0 inches |
| Weight: *173 1/2 lbs. | Weight: *174 1/2 lbs. |
| Reach: 75 inches | Reach: 72 1/2 inches |
| Stance: Orthodox | Stance: Orthodox |
*This is actual weight these fighters weighed in at on the day before the fight. Fighters weigh in before the fight to ensure that both fighters weigh in at or under the agreed weight  at.
Get your Official Floyd Mayweather, Jr. TMT T-Shirts and Hats here at PSB!
For more boxing news and articles continue to visit www.potshotboxing.com. If you like this post and other's from Potshot Boxing, feel free to spread the word to your favorite social media channels with your friends and family!! Potshot Boxing – "Boxing news and article bites for all walks of life."