Here is the tale of the tape for tonight's WBA and Ring super middleweight title fight between Andre "S.O.G." Ward and Edwin "La Bomba" Rodriguez!!
Need emergency cash? Let us help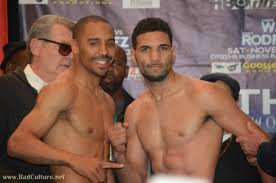 Photo Credit: beatsboxingmayhem.com
Andre "S.O.G" Ward

 

Edwin "La Bomba" Rodriguez

Age: 29

 

Age: 28

Height: 6 feet 0 inches

 

Height: 6 feet 0 inches

Reach: 71 inches

 

Reach: 76 inches

Weight:  *167.8 lbs.

 

Weight: *170 lbs.

Stance: Orthodox

 

Stance: Orthodox

Boxing Record: 26-0-0, 14 KO's

 

Boxing Record: 24-0-0, 16 KO's
*This is actual weight these fighters weighed in at on the night before the fight.  Fighters weigh in before the fight to make sure that both fighters weigh in at or under the agreed weight that a fight is schedule to be fought at.  If a fighter weighs in over the agreed weight limit for a bout, then there are consequences that will happen to that fighter that did not make the agreed weight at the expense of the state's boxing commission and/or the other fighter's camp such as loss of some of the fighter's purse, (Payment,) or the fight can end up being cancelled, etc.  Fighters usually weigh heavier the night of the fight given that fighters need to rehydrate after draining themselves to make the agreed weight.
The agreed weight for the Andre Ward/Edwin Rodriguez fight was 168 lbs. and Rodriguez failed to make that agreed weight as Rodriguez weighed in 2 lbs. heavier than the agreed 168 lbs. so in this case, given that the fight was not cancelled for tonight because Ward is still willing to fight Rodriguez; Rodriguez will not be able to capture Ward's WBA and RING super middleweight titles should he pull off the upset tonight.
Lose up to 20 lbs. in just 12 weeks! Natural and Potent Raspberry Formala. Try for FREE!
For more boxing news and articles continue to visit www.potshotboxing.com. If you like this post and other's from Potshot Boxing, feel free to spread the word to your favorite social media channels with your friends and family!! Potshot Boxing – "Boxing news and article bites for all walks of life."