Here is Potshot Boxing's (PSB) Prediction for the upcoming IBF welterweight championship fight between Shawn Porter and Kell Brook!!
Find Affordable Health Coverage Now – Compare Quotes & Save! Click here!
Undefeated IBF welterweight champion Shawn "Showtime" Porter will be putting his title on the line against another proven undefeated fighter in Kell "Special K" Brook.  This is yet another good fight that boxing can use as an example to show the world that they are striving to give boxing fans the fights they deserve to see.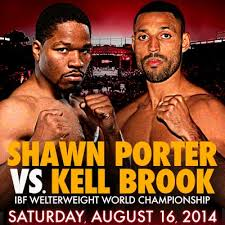 Photo Credit: pushthelineboxing.com
Shawn Porter flat out steamrolled his last 2 opponents in Devon Alexander and Paulie Malignaggi.   Alexander and Malignaggi are 2 legitimate opponents that Porter looked great against and I feel that Porter stock is only going to rise even further if he can do the same thing to Kell Brook on Saturday, August 16, 2014.
"Special K" Kell Brook has stopped his last 4 opponents and in the process have not been past the 8th round in 2 years.  So who's going to win this fight?
One-week fantasy leagues starting at $1! Join now!
We all know that Porter is going to bring that aggressive boxing style with him to the StubHub Center in Carson, California and try to make the fight as gritty and gully as possible.  I expect for Kell Brook to box by using that left jab to try and keep Porter from imposing his will.  I predict that there will be some moments in this fight were these 2 fighters will let it all hang out and give the boxing world some great action to witness.
In the end, the real question is simply whether or not Brook can deal with Porter's unbelievable pressure.  I believe that Brook will be able to deal with what Porter will be bringin' but this fight may go the distance so I feel this is where Porter will take the fight over given that Brook has not been in the championship rounds in 2 years.  
What can I say, I just feel that it is Porter's time to shine and he will stay undefeated.
Prediction: Shawn Porter by Unanimous Decision
Find Affordable Health Coverage Now – Compare Quotes & Save! Click here!
For more boxing news and articles continue to visit www.potshotboxing.com. If you like this post and other's from Potshot Boxing, feel free to spread the word to your favorite social media channels with your friends and family!! Potshot Boxing – "Boxing news and article bites for all walks of life."