Okay Boxing World, so we all know that the rematch between "Sugar" Shane Mosley and Ricardo "El Matador" Mayorga was in serious jeopardy due to Mayorga's Promoter Don King threatening to scratch Mayorga over a contract dispute.
Get boxing tickets to all of the upcoming big fights here at PSB!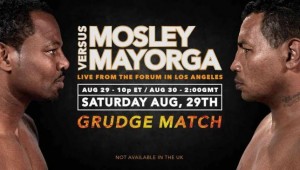 The seriousness of the Mosley/Mayorga rematch was so much turmoil that Mosley and King met in Miami, Florida today to try and settle the dispute in a courtroom. Well after going to court and realizing that it may be better to put on a good show instead of robbing the boxing world of a surprisingly intriguing fight, the Mosley/Mayorga rematch for August 29, 2015 is on!!
Mosley and Mayorga will hold a final press conference on Tuesday, August 25, 2015 to cement this fight in stone. Believe it or not, this should be a pretty good fight given that Mosley and Mayorga does not have the "take me out to the ball game type of relationship" which should make for tremendous fireworks on August 29.
Now, paying $49.95 on pay-per-view for the Mosley/Mayorga rematch is another story altogether!
Like Doritos? Get a Doritos Sample here!

Loading ...
For more boxing news and articles continue to visit www.potshotboxing.com. If you like this post and other's from Potshot Boxing, feel free to subscribe to this boxing website by entering your email address into the floating email form provided on this post! Potshot Boxing – "Boxing news and article bites for all walks of life."