Here is Potshot Boxing's Prediction of the upcoming Middleweight showdown between Sergio "Maravilla" Martinez and "Junito" Miguel Cotto!!
This is going to be one heck of a fight as both Sergio Martinez and Miguel Cotto are actually debating over which fighter is more popular and skilled than the other. During HBO's Faceoff with Max Kellerman, Cotto stated he is an A Side fighter and Martinez is a B Side fighter which simply means that Martinez is not as popular as Cotto is to the boxing world.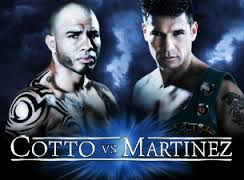 Photo Credit: ticketmaster.com
Martinez took offense to the comments made by Cotto as he misinterpreted what Cotto was saying. Martinez felt that Cotto was saying that Martinez was a B Side fighter from a performance standpoint and that was not true.
Cotto is the more popular fighter than Martinez, and with the fight being held at Madison Square Garden in New York City this Saturday, Cotto will be in familiar territory with a boxing crowd that loves him as this will be the 9th time that Cotto has fought at Madison Square Garden.
So Will the Madison Square Garden crowd be enough for Cotto to take Martinez's WBC and Ring middleweight titles; and become the first Puerto Rican to win world titles in 4 different weight divisions?
I am not sure, but Saturday night I expect for Cotto to be the aggressor in this fight as Cotto will need to come forward behind his jabs and use his aggression to try and get to the body of Martinez in hopes of throwing Martinez off rhythm.
I expect for Martinez to circle and box Cotto by using his jab as well to set up some power shots as Cotto tries to get inside of Martinez. Both of these fighters are going to be a bit aggressive, I just feel that Cotto will be the most aggressive of the two; and needs to be the most aggressive of the two as Cotto does not need to allow Martinez to circle him with his hands below his hips and getting comfortable because if Martinez gets comfortable; nothing will matter at that point as Martinez should win easy.
Martinez said that he is going to knock out Cotto; Cotto said that he is going to knock out Martinez. This is going to make for an instant classic type of fight if both of these fighters stay true to their word on Saturday night and try to score that knockout on each other.
So who wins? This is going to be Cotto's first try at Middleweight; Martinez has been comfortable at Middleweight for a while now so I will have to go with the Champion.
Prediction: Sergio Martinez by Knockout
For more boxing news and articles continue to visit www.potshotboxing.com. If you like this post and other's from Potshot Boxing, feel free to "Spread the word" to your favorite social media channels with your friends and family!! Potshot Boxing – "Boxing news and article bites for all walks of life."