This is a recap of the IBF, WBA (Super), and WBO light-heavyweight title fight between Sergey Kovalev and Jean Pascal!
For the first time in a long time, the light heavyweight division produced a fight that got the fans jumping out of their seats.  This fight between Sergey Kovalev and Jean Pascal had intrigue, suspense, action, and determination all wrap up into one great fight.
Sergey "Krusher" Kovalev went into the hostile Bell Centre in Montreal, Quebec, Canada and put on another destructive performance as he walked down Jean Pascal and used his left jab to set up huge right hand power shots and vicious combinations that simply kept Pascal unsteady the whole night.
The Venus Factor! This is the first weight loss plan designed to increase female metabolism.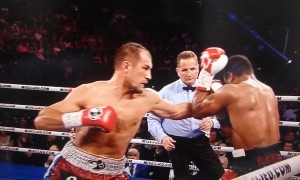 In round 1 of this fight, Kovalev wasted no time stalking Pascal.  He used that good left jab to the head and body of Pascal to set up the right hand.  Pascal started off the fight moving backwards while trying to box and counter Kovalev's aggression.  One thing that Pascal loves to do is conserve energy and try to fight in spots, but Kovalev did not let Pascal rest at any point in the fight.
The two men closed the 1st round wrestling each other, and Pascal also tried to faint his way into scoring a big shot on Kovalev, but to no avail.
The 2nd round was more of the same as Kovalev landed right hand after right hand on Pascal.  Pascal would lay on the ropes early on in round 2, but Kovalev kept his distance and continued to land the left jab to the body and the right hand over the top.
Pascal would land some good body shots of his own, but Kovalev's sheer aggression kept Pascal on his bicycle as he continued to walk down Pascal and pummel him with hard body shots.
In the 3rd round, Kovalev continued to land the left jab on Pascal's body followed by the right hand.  Pascal would land a good left and right on Kovalev that offset Kovalev attack, but Pascal would later get caught with a vicious left hook by Kovalev.  At this point, Pascal was a huge trouble.
Pascal wisely held on to Kovalev and boxed Kovalev down the stretch in the 3rd.  Kovalev did a great job staying patient in the 3rd by picking his spots to inflict more punishment on Pascal.  Kovalev's patience would pay off as he walked down Pascal a landed a crushing right hand that left Pascal hanging through the ring ropes.
Living Green Superfood! This powder will improve your energy, boost your immune system, and detoxify your body of unwanted toxins!
The referee ruled this a knockdown because Pascal's body was literally hanging through the ropes.  Pascal would get untangled from the ropes and survive the 3rd round, (he may have gotten knocked out had it not been for the ropes holding him up.)
Pascal looked finished after the 3rd, and when the 4th round started, Kovalev went straight over to Pascal and immediately tested his legs by landing more brutal left jabs and hard right hands on him.  It looked as though the referee was going to step in and stop the fight in the 4th, but Pascal would show true resilience that gained the boxing world's respect.
Shot after shot Kovalev continued to land on Pascal in the 4th as Pascal laid on the ropes in hopes of getting his legs back under him.  Pascal would land a good counter left hand on Kovalev, but Kovalev kept moving forward and whacking Pascal with hard lefts and rights.  The punishment got so bad for Pascal that his 11 year old daughter was taking outside of the Bell Center crowd by some of Pascal's crew.
Kovalev started to admire his work a little in the 4th, and got cracked by a hard Pascal right hand as he was coming in to lay more leather on Pascal.
Pascal made this a great fight by standing up, weathering the Kovalev assault, and landed some hard punches on Kovalev which led to Pascal's 11 year old daughter getting escorted back into the Bell Center crowd to watch her father fight some more.
Pascal had huge moments in rounds 5 and 6 as he clearly rocked Kovalev with some devastating left hand counter shots.  Kovalev's has a good beard and was able to withstand Pascal's huge rally.
In round 7, Pascal's stamina would start to show as Kovalev backed Pascal up against the ropes and put his body weight on Pascal which caused Pascal to fall to the canvas.  Later on in this round, Kovalev stayed patient and continue his brutal assault on Pascal.  Kovalev did a great job down the stretch getting out of the way of Pascal's counterpunches and making Pascal pay with punishing shots.
At the end of the 7th round, Kovalev would catch Pascal with another devastating left hook that I feel Pascal just did not recover from.  The 8th round would start off with Kovalev dangerously slipping on a wet spot in the ring.  Kovalev would shake the slip off and close the show by throwing huge combos to Pascal's body and head that clearly wobbled Pascal.
Kovalev would miss a punch on Pascal which caused him to hit the canvas, but the referee wisely ruled the fall a slip.  During the slip, Pascal was so badly hurt that he wobbled across the other side of the ring and Kovalev pointed this out to his corner.  After the slip, the fight would continue and Kovalev would land one more brutal right hand for good measures. The referee had seen enough at this point and stopped the fight.
Sergey "Krusher" Kovalev was awarded the 8th round TKO victory, thus, retaining his IBF, WBA (Super), and WBO light-heavyweight titles.
The 3 Week Diet!  This is an extreme rapid weight loss program that can help you lose pure body fat in just 3 weeks!
Conclusion
During the post fight interview, Pascal claimed that he was okay in the 8th round and that the referee should not have stopped the fight.  I personally think it was a good stoppage because if the fight would have continued, Pascal may have started to take some career ending shots from Kovalev.
I mean, Pascal was already a beaten up fighter tonight so there was no reason for him to sit there and take more crushing blows from the dangerous Kovalev.  I give Jean Pascal all the credit in the world for hanging in there and fighting Kovalev, but at some point you have to protect the fighter.
I love Sergey "Krusher" Kovalev!  He is a punching destroyer and there are a lot of fighters at 175 that are running to the hills to get away from him.  After the fight, there were a lot of people in the boxing world saying that they would love to see a possible Kovalev/Pascal 2.  Well, I do not want to see this fight again.  I think Kovalev would knock Pascal out sooner in a sequel so let's just keep this fight as a one of a kind light-heavyweight fight that the boxing world will be taking about for years to come.
Meanwhile, let's get into the meat and potatoes of the light-heavyweight division. I would like to see Sergey Kovalev and Adonis "Superman" Stevenson get it on to see who is the best light-heavyweight in the world. Cannot wait to see how the light-heavyweight division play out, but this is the only fight right now that most of the boxing world wants to see so give it to us!
CogniMaxx Brain Supplement!  Improve your memory, increase levels of focus and elevate your mood.

For more boxing news and articles continue to visit www.potshotboxing.com. If you like this post and other's from Potshot Boxing, feel free to subscribe to this boxing website by entering your email address into the floating email form provided on this post! Potshot Boxing – "Boxing news and article bites for all walks of life."