On July 25, 2015, Sergey Kovalev will be looking to blast away the quickness of Nadjib Mohammedi en route to a showdown with either the best super middleweight in the world Andre "S.O.G." Ward or the next best light heavyweight in Adonis "Superman" Stevenson.
This should be a very entertaining fight for Kovalev fans, but the opponent Kovalev will be facing on July 25 is no slouch. Mohammedi is known for having good boxing skills and hand speed so Kovalev will definitely have to use his good jab in this fight to offset the quickness of Mohammedi.
Like Doritos? Get a Doritos Sample here!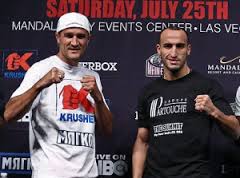 I expect for Kovalev to come out and put Mohammedi on his heels early by bullying his way on the inside of Mohammedi and landing some big shots. Mohammedi has a huge chance to show the boxing world what kind of fighter he is, but I just do not think it will be enough to stop the raging offensive attack of Sergey Kovalev.
If Mohammedi has any chance of shocking the boxing world on Saturday night, he is going to have to keep his guard up, jab with the jabber, and try to land some big punches to shake up Kovalev.
So who wins?
Well Mohammedi has been on a nice winning streak of late and definitely deserves a shot at Sergey Kovalev, but at the end of the day, I feel Kovalev will use his aggressive offense to overwhelm the big punching Mohammedi. It also doesn't hurt that Mohammedi gets hit with a lot a punches due to holding his hands low.
Prediction: Sergey "The Krusher" Kovalev by Technical Knockout

Loading ...
For more boxing news and articles continue to visit www.potshotboxing.com. If you like this post and other's from Potshot Boxing, feel free to subscribe to this boxing website by entering your email address into the floating email form provided on this post! Potshot Boxing – "Boxing news and article bites for all walks of life."