Check out Potshot Boxing's (PSB) Prediction for the upcoming WBO light heavyweight fight between Sergey "Krusher"  Kovalev and Blake "IL Capo" Caparello.
Need a loan? Get up to $2500.00 quick and easy…click here
Sergey Kovalev will be looking to "Krush" yet another willing opponent in his quest to be the best light heavyweight in the world. Blake Caparello is undefeated just like Kovalev, but he does not knock out his opponents very often. Caparello will be going after his first world title when he faces off against Kovalev.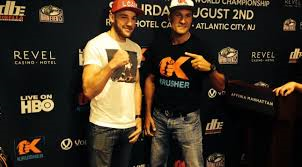 Photo Credit: bloguin.com
Both fighters have been taken to the brink in a fight before because they both have fought to a draw once in their professional boxing careers. Kovalev is a boxer-puncher destroyer, and Caparello is a southpaw who has a good jab and circles well. Caparello is also did not make too many mistakes so this will be a good challenge for the champion Kovalev.
I expect for Kovalev to come forward and apply some serious pressure on Caparello in this fight. Caparello simply needs to use his legs and move, move, and move so more to get out of the way of those power bombs that Kovalev will be throwing at him. Caparello has youth, height, and good boxing on his side so I do give him a chance to win in this WBO light heavyweight title fight against Kovalev.
The only flaw that I do see in Caparello is that he sometimes keeps his right hand down by his waist side so I expect for him to keep those hands a little bit higher in this fight with the champion Kovalev. Does Caparello have the motor to box and move for 12 rounds? If he does, then, I give him a great chance to win this fight.
Need a loan? Get up to $2500.00 quick and easy…click here
Kovalev, however, seems to be on a mission these days as I believe it just does not matter which light heavyweight is in front of him right now. Caparello is lean and tall; with a good reach, but I have a feeling that Kovalev is just going to walk through whatever offensive boxing game plan that Caparello will try to institute on August 2, 2014.
This should be a crowd pleasing fight for those who will be present at Revel Atlantic City in Atlantic City, New Jersey!! I am happy that Caparello is finally getting a shot at some championship gold, but at the end of the day, I expect for Kovalev to be great en route to calling out the great Bernard Hopkins and Adonis Stevenson.
Prediction: Sergey Kovalev by knockout
Need a loan? Get up to $2500.00 quick and easy…click here
For more boxing news and articles continue to visit www.potshotboxing.com. If you like this post and other's from Potshot Boxing, feel free to spread the word to your favorite social media channels with your friends and family!! Potshot Boxing – "Boxing news and article bites for all walks of life."