There were not a lot of good fights to choose from in the month of January.  I mean, I feel that Boxing was getting itself back on track after the holidays as a lot of big name fighters were most likely enjoying time with their love ones and admiring the fruits of their labor.
Now, the month of January 2016 did give us the knockout of the year so far by Deontay 'The Bronze Bomber' Wilder and Danny 'Swift' Garcia beating another gatekeeper fighter in Robert 'The Ghost'  Guerrero, but if I had to choose a fight for Potshot Boxing's (PSB) Fight of the Month for January 2016, it will have to be Sergey Kovalev's destruction of Jean Pascal.
If you enjoyed the Kovalev vs. Pascal 2 fight on 1-30-2016, get this exclusive Boxing Headline T-Shirt!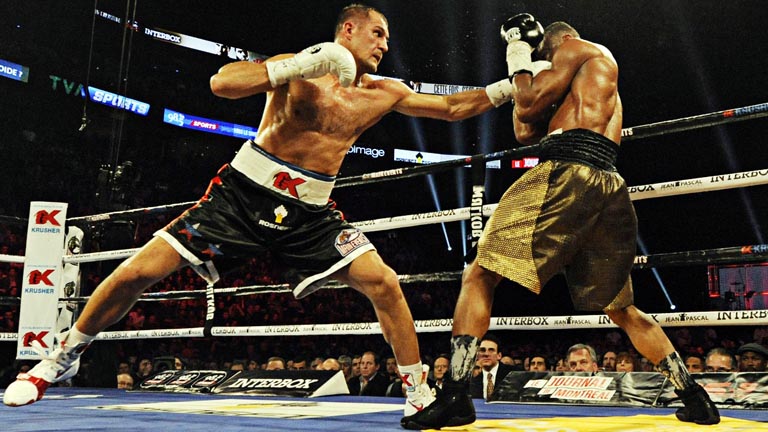 Sergey 'Krushes' Kovalev returned back to hostile territory at the Bell Center in Montreal, Quebec, Canada, and did the same thing to Jean Pascal in their 1st meeting last year, that he did on January 30, 2016, and that is stop Jean Pascal.
Kovalev used his great left jab and straight right hand to finish the job in lesser time.  Pascal started off the fight by trying to counterpunch and steal rounds from Kovalev early on in this fight, but Kovalev was so patient in his approach which prove to be too much for Pascal as he whipped Pascal from pillar to post in this fight.  Pascal was dead tired by round 5 and Kovalev took advantage of the floundering Pascal by clobbering him with hard, brutal shots.
Round 6 would prove to be a dangerous round for Pascal as he took big right hand after big right hand on his head, but the referee did not stop the fight.  Kovalev continued to patiently cut the ring off on Pascal and whack him with vicious left hand shots to his body and devastating right hands to the head.
Get up to $1,000 within 24 hours! Find out how!
When Pascal went back to his corner after round 6, his new trainer, the great Freddie Roach told him that he was going to stop the fight.  Pascal pleaded and pleaded with Roach not to stop the fight, and Roach gave in, but left Pascal with an addendum that if he did not do anything in the 7th round that he would stop the fight.
Well in round 7, Pascal tried to swing for the fences and make a last stand in the fight, but Kovalev was like a CompuBox robot as he systematically broke Pascal down with the same hard left jabs and straight rights.  At the end of round 7, Freddie Roach told Jean Pascal that he was going to stop the fight and did just that.
Freddie Roach told the referee that Pascal was done, the referee stopped the fight, and Sergey 'Krusher' Kovalev was awarded the 7th round TKO victory, thus, retaining his WBA (Super), WBO, and IBF light heavyweight titles.
Conclusion
After the fight, HBO Boxing Analyst Max Kellerman asked Kovalev who did he want to fight next.  Kovalev answered the question by saying that he would like to unify the titles and fight Adonis 'Superman' Stevenson.  Kovalev referred to Stevenson as Adonis "Chickenson."  After Kovalev made those remarks, Stevenson stormed the ring and tried to go after Kovalev, but his crew held him back and Kovalev's corner got him out of harm's way.
Sergey Kovalev was laser sharp in his rematch with Pascal as he continues to prove to the boxing world that he is the best light heavyweight in the world.  I would love to see Kovalev and Stevenson fight for light heavyweight supremacy!
Hopefully the month of February 2016 will have some better fights, but for now, the boxing world was very impressed with the predicted beating the Sergey Kovalev gave to Jean Pascal in their light-heavyweight title rematch.
Check out PSB's new book, "Best Fights Of 2015 (According to Potshot Boxing – PSB)!
For more boxing news and articles continue to visit www.potshotboxing.com. If you like this post and other's from Potshot Boxing, feel free to subscribe to this boxing website by entering your email address into the floating email form provided on this post! Potshot Boxing – "Boxing news and article bites for all walks of life."