Sergey Kovalev is becoming more or more dominant with every growing fight and Saturday, July 25, 2015 was no different.  Nadjib Mohammedi was just a sitting duck for Kovalev's great jab and aggression for as long as this fight lasted.
Kovalev patiently walked down Mohammedi and whacked him with vicious power shots to the head and body all night long.  I knew in round 1 that it was going to be a matter of time before Kovalev lays the boom on Mohammedi.  On another note, Mohammedi has a bad habit of fighting with his hands down which made it even easier for Kovalev to impose his devastating will on him.
Like Doritos? Get a Doritos Sample here!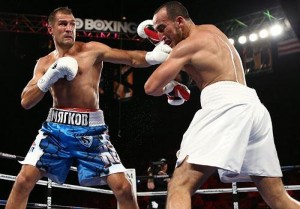 In round 2, Kovalev continued to take advantage of Mohammedi's bad defense by moving behind his jab and ripping him with hard straight lefts and rights to the body.  As the round continued, Kovalev backed Mohammedi up some more with his jab as Mohammedi looked confused, befuddled, and dare I say scared of what was coming his way via Kovalev.
The only highlight Mohammedi had in the fight was in the 2nd round when he tangled his feet with Kovalev which caused Kovalev to hit the canvas.  The referee ruled the tangling of feet a slip.  Well after the slip, Kovalev went back to work and clocked Mohammedi with a big straight right hand, followed by a straight left and combination punches to the head the sent Mohammedi to the canvas for the 1st time in the fight.
Mohammedi would get up from the knockdown at the count of 8, but Kovalev went right back to work on him as he tried to go in for the kill.  Kovalev would catch Mohammedi with another crowd-pleasing overhand right that wobbled Mohammedi against the ropes.  For the rest of round 2, Mohammedi would grab and hold his way en route to surviving the round.
Receive Up To $1,000 with Rainy Day Lender! Get Cash Now!
In round 3, Kovalev would finish what he started in the 2nd round by continuing to pummel Mohammedi with the straight right hand.  Again, Mohammedi's hands were way too low in this fight so Kovalev could not miss with that sinister right hand.  Kovalev would punctuate the fight an emphatic fashion by finishing Mohammedi with a vicious short left hand that sent Mohammedi to the canvas for good, while breaking his face in the process.
Sergey "Krusher" Kovalev was awarded the 3rd round KO victory to retain his WBA (Super), WBO, and IBF light heavyweight titles.  Now hopefully the boxing world will witness Kovalev stepping into the ring with either Andre "S.O.G." Ward or Adonis "Superman" Stevenson in the future.
Here is the other boxing result from HBO Championship Boxing last night.
Jean Pascal defeated Yunieski Gonzalez by 10th round unanimous decision victory.  A lot of boxing fans and critics felt that Gonzalez won this fight.
The Jean Pascal vs. Yunieski Gonzalez fight was a good give and take fight.  There were a lot of swing round in that fight, but personally, I felt that Yunieski Gonzalez did enough to get the decision and the judges got it wrong again. Even though Pascal got the win, I do not think that he deserve another shot at Sergey Kovalev.
As far Yunieski Gonzalez, this gave him a big boost as I feel that the fighters in the light heavyweight division will be jumping at the chance to give this kid a shot due to his great performance against Pascal.

Loading ...
Subscribe To USA Today Sports! Stay in-the-know about the latest Sports stories. Get your first 2 months for $25!
For more boxing news and articles continue to visit www.potshotboxing.com. If you like this post and other's from Potshot Boxing, feel free to subscribe to this boxing website by entering your email address into the floating email form provided on this post! Potshot Boxing – "Boxing news and article bites for all walks of life."