This is a story about former two time junior lightweight champion Ricky Lockridge AKA Rocky Lockridge who was a great fighter who struggled with drugs and alcohol.
I was watching an episode of the riveting documentary series called "Intervention" on the Lifetime network with my wife and this particular episode was based on a fighter name Rocky Lockridge. This was an episode of "Intervention" aired back in 2010 on the A&E network. Now for all of you who do not know who Rocky Lockridge is, well, he if a former two-time junior lightweight champion in the 1980's.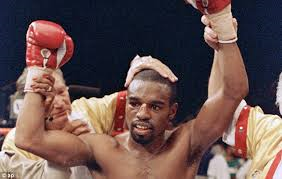 Photo Credit: dailymail.co.uk
The episode of "Intervention" started out showing Lockridge training some kids and adults boxing in a boxing gym. Lockridge is a guy who knows boxing in and out, and it showed in his ability to train these kids and adults in that first scene of the show. What was revealed in this show was that Lockridge has been a drug addict and alcoholic for a long time. Also Lockridge was homeless in New Jersey, so to get money for the drugs and alcohol addiction he would panhandle.
On top of all of that, Lockridge had a stroke that left one of his legs paralyzed. Lockridge would continue to use drugs and alcohol even after having the stroke.
During his amateur boxing career, Lockridge won the National Amateur Championship in the Bantamweight division, and the National Golden Gloves.
After turning pro in 1978, Lockridge used his aggressive boxing style to steamroll through his first 16 opponents en route to his first world title fight in 1980 against Eusebio Pedroza. This was a fight that most boxing fans felt that Lockridge won hands down, but in the end the judges awarded Pedroza the 15 round split-decision victory. (Back then championship fights went 15 rounds, rather than 12 rounds.)
Click Here to get a Visa gift card to use at Burger King
Lockridge had admitted that the pressures of boxing, depression, and frustration were mounting. That lost to Pedroza, a fight in which Lockridge clearly won going away in the eyes of most boxing fans, sent Lockridge into a downward spiral. At the age of 22, Lockridge would try cocaine for the very first time. Lockridge stated that the drugs relieved a whole lot of pressure and stress.
In 1984, Lockridge would get another crack at championship glory when he faced Roger Mayweather for the WBA junior lightweight championship. Roger Mayweather at that time was undefeated and was one of those fighters who were knocking at the door of superstardom. With a win against Lockridge; Mayweather would surely be on his way. Little did Roger Mayweather know that Lockridge had other plans as he would knock out Mayweather in just 98 seconds of the first round to shock the boxing world and capture his first professional boxing world title. As a result of Lockridge winning the WBA junior lightweight title, Roger Mayweather suffered the first loss of his professional boxing career.
After winning his first title, Lockridge got married, and his wife gave birth to twin boys; Ricky Jr. and Lamar. The pressure of being champion weighed heavily on Lockridge. All of the traveling between The States and overseas became tiresome for him. Drugs and alcohol would rear its ugly head again. This time it costs him his world title and his family. In 1988, Lockridge would lose his WBA junior lightweight title to Tony "The Tiger" Lopez. In that fight, Lopez was quicker, and countered Lockridge at every turn in that fight.
The lost to Lopez just fueled Lockridge's appetite for more reckless behavior. Lockridge's behavior would cause his wife to gather their twin boys, leave him, and move to Tacoma, Washington. Lockridge's wife would take him back; however, and move Lockridge back into her home in Tacoma, Washington. Things would get out of hand again as this time Lockridge would try crack for the first time.
Click Here to get a Visa gift card to use at Burger King
Lockridge's twin sons would tell the story of how the drugs would make Lockridge so aggressive. The sons recall Lockridge and their mother getting into several altercations after the reconciliation. One night, the fighting got so bad between Lockridge and his wife that one of the twin sons called the police to get Lockridge out of the house. The police showed up at the Lockridge residence, took Rocky Lockridge away, and that was the last time Lockridge saw his family.
Lockridge left his family and went to New Jersey. While in Jersey, Lockridge would continue to use drugs and alcohol. There was one part in this episode of "Intervention" were it showed Lockridge snorting the drugs out of someone's hands. Wow!!
The sons would later confront Lockridge to reconcile with their father. Ricky, Jr. was happy to reconcile with his father, and Lamar was not. Lamar stated that he hates his dad for what he did to them years ago. Lockridge was led to believe that the show "Intervention" was doing a documentary on his addictions. What he did not know, however, that he was going to be involved in an intervention.
That intervention was powerful!! His best friend, Bobby Toney, who Lockridge trains, and his sons, all gave compelling speeches. It was definitely a tear jerker seeing the sons speak out to Lockridge. In the end, Lockridge accepted the invitation to get help and went to the Palmetto Addiction Recovery Center in Rayville, Louisiana for 90 days of treatment. After the treatment, he went back to New Jersey where he continues to train his best friend Bobby Toney.
He also started to rebuild his relationship with his sons Lamar and Ricky Jr.
Conclusion
This is a great story!! I personally never knew about Ricky Lockridge AKA Rocky Lockridge. All drugs and alcohol aside, this was a great fighter back in the day!! He is best known for handing Roger Mayweather the first loss of his professional boxing career. Trained by the great Lou Duva, Lockridge had a very impressive professional boxing record consisting of 44 wins, 9 losses, and 36 of those wins coming by way of knockout.
Within those 44 wins, he won the WBA junior lightweight title in 1984, and the IBF junior lightweight title later on in his career back in 1987.
In those 9 losses, Lockridge was only stopped once, and most of his losses were close fights. He took the great Julio Cesar Chavez 12 rounds and Chavez escaped with the majority decision victory.
Click Here to get a Visa gift card to use at Burger King
It is amazing how sometimes the politics of boxing can destroy such a great fighter like Rocky Lockridge. Now I am not blaming boxing for Lockridge's actions, but I am saying that boxing needs to quit the politics and let the right guy win a fight!!
Most boxing expert's felt that Lockridge won the fight against Pedroza, and if boxing would have gotten this decision right, there is no telling if Lockridge would have even picked up an addition in the first place.
Lockridge is one of boxing's greats, but he will probably never get his due because people will look at his struggle instead of the beautiful display of boxing he gave to the boxing world.
Click Here to get a Visa gift card to use at Burger King
For more boxing news and articles continue to visit www.potshotboxing.com. If you like this post and other's from Potshot Boxing, feel free to spread the word to your favorite social media channels with your friends and family!! Potshot Boxing – "Boxing news and article bites for all walks of life."