Here is a recap of the rubber match fight between Brandon Rios and Mike Alvarado!
Well the rubber match between Brandon "Bam Bam" Rios and Mike "Mile High" Alvarado turned out to be a one-sided beating in favor of Rios.  Heading into this hometown fight for Alvarado, he had some outside distractions that may have effected the way he prepared for this fight.  I give all the credit in the world to Brandon Rios for fighting an efficient fight, but it just goes to show you that as a world class fighter you have to be prepared, and I do not think Alvarado prepared himself properly for this fight.
Check out these cool boxing t-shirts! Own yours today!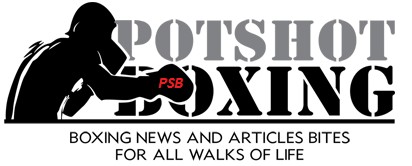 Mike Alvarado would once again enter his backyard at the 1stBank Center in Bloomfield, Colorado; and once again left the Colorado boxing crowd in disappointment as Rios simply punished Alvarado for 3 rounds.
Round 1 pretty much told you the story of how this fight was going to turn out as Rios starting out stalking Alvarado from the start and just beat up Alvarado's body every chance he got.  Alvarado was backing up and trying to box Rios, but Rios used his aggression to over power Alvarado.
Rios would hurt Alvarado in the 1st round with a hard right hand to sent Alvarado back against the ropes. Rios would follow up the right hand with more vicious shots that busted up Alvarado's face.
Round 2 would be more of the same drubbing on Alvarado as Rios continued to walk Alvarado down and land hard body shots and uppercuts that made Alvarado wobble.  Alvarado was getting beat up so bad in this fight by Rios, he decided to hit Rios with a low blow that momentarily stopped the action.
Get the Undisputed Truth by Mike Tyson here at PSB. Own it today!
Rios would shake off the low blow and continue attacking.  In the 3rd round, Rios would start off throwing his jab to set up more brutal shots to Alvarado's body.  Rios would mix in hooks and uppercuts that bothered Alvarado as well.  Rios simply could not miss Alvarado in this fight as he caught Alvarado in the 3rd round with a vicious right uppercut that sent Alvarado to the canvas.
Alvarado would survive the knockdown, but only to get backed into the ropes by Rios as he just pummeled Alvarado for the remainder of the 3rd round.  I thought that the fight was going to get stopped during the 3rd round given the brutal beating Alvarado was taking, but Alvarado gave his hometown crowd a glimmer of hope when he caught Rios with a counter shot on the inside that momentarily stopped the Rios attack.
When the 3rd round ended, Alvarado went back to his corner.  While in the corner, his corner was asking him whether or not he wanted to go back out and fight Rios.  The referee would then proceed to give Alvarado the finger test and next thing you know the referee tells the boxing world the fight is over.
Alvarado quit on his stool after the 3rd round and Brandon "Bam Bam" Rios was awarded the 3rd round RTD victory.  With the victory, Rios is the New WBO International welterweight champion.
Conclusion
This fight turned out to be brutal after all, but I just did not know that only 1 fighter was going to show up and fight.  The outside distractions clearly bothered Alvarado.  He seemed uninterested the entire night and looked as though he wanted the fight over as soon as possible, especially when Rios got to beating on him.
Rios prepared well for this fight, and I give him a ton of credit for going out there in hostile territory and resurrecting his boxing career in emphatic fashion.  Rios will be tough for whoever he faces off against in the future.  His all-action style will always please the boxing world which will make him a permanent fixture in the boxing world scheme of things for as long as he wants to fight.
As for Mike "Mile High" Alvarado, I hope things work out for him outside of the ring.  Though his problems were self-inflicted, you never want to see someone fall so I hope Alvarado get his issues outside of the ring resolved so that we can see a much better Alvarado moving forward.
Check out these cool boxing t-shirts! Own yours today!
For more boxing news and articles continue to visit www.potshotboxing.com. If you like this post and other's from Potshot Boxing, feel free to spread the word to your favorite social media channels with your friends and family!! Potshot Boxing – "Boxing news and article bites for all walks of life."