Ricky Burns will retain his WBO lightweight championship, but should he?  Most boxing expects and the fans at ringside felt that Reymundo Beltran did enough to take the title away from Burns.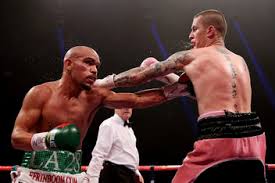 Photo Credit: badlefthook.com
Beltran even scored a knockdown on the champion, but it was not enough to persuade the judges to score the fight in Beltran's favor.  Again, like I said before, today the boxing world was going to find out whether or not Burns have the goods to challenge some of the top lightweights in the division or not and to answer that question…just barely.
I am still not sure if Burns really have the goods as a top lightweight, and in this fight most expects feel that Beltran should have walked away with the WBO lightweight title so even though Burns will retain his WBO lightweight title, he will definitely need to go back to the drawing board and get his defense under control because if he take shots in the future from some the top fighters in the lightweight division like he did in this fight with Beltran, then he may not be so lucky to hold on to his title the next time out.
For more boxing news and articles continue to visit www.potshotboxing.com. If you like this post and other's from Potshot Boxing, feel free to spread the word to your favorite social media channels with your friends and family!! Potshot Boxing – "Boxing news and article bites for all walks of life."