Marcos Maidana retired from Boxing on Tuesday, August 16, 2016 at the age of 33.
Marcos 'El Chino' Maidana retired from Boxing this past Tuesday August 16, 2016 at the age of 33. Maidana was one of those fighters who gave you an "L" if you did not pack your lunch on fight night.
Maidana finishes with an impressive professional boxing record, consisting of 35 wins and 5 losses, with 31 of his wins coming by way of knockout. You can also throw in 2 world titles to Maidana's credentials as he held the WBA (Regular) junior welterweight title, and the WBA (Super) welterweight title. Maidana gave the boxing world a plethora of crowd-pleasing fights.
Check out this HOT NEW "Warning: Boxing Decisions" T-Shirt! Own a t-shirt and mug today!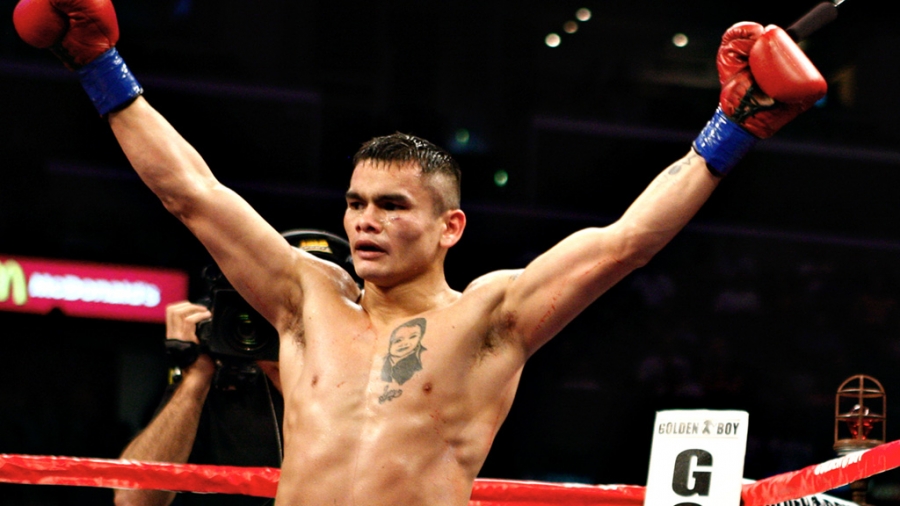 In 2010, Maidana was down big in his fight with Amir 'King' Khan, but came storming back as he caught Khan late in that fight with a big shot that had Khan out on his feet. Referee Joe Cortez kept stepping in the way of Maidana in that fight when he tried to finish Khan as if he had some money riding on the fight.
Khan went on to win that fight, but Maidana put the boxing world on notice that he would be a force to the rest of the fighters from 140 to 147 from that day forth. Maidana is well-known for shutting up the ultra-cocky Adrien 'The Problem' Broner as he used his great pressure to overwhelm the heavily favored Broner.
Maidana also managed to knock down Broner twice in that fight en route to capturing the WBA welterweight title, while handing Adrien Broner his first professional boxing loss. Maidana had other great fights in his professional boxing career. His fights with 'Vicious' Victor Ortiz, Andreas 'Kotelya' Kotelnik, Josesito 'Riverside Rocky' Lopez, and the great Erik 'El Terrible' Morales were all epic.
Check out this cool "Best Fight I Ever Saw" T-Shirt! Own yours today!
Maidana was most known, however, for his 2 fights with the Former Pound 4 Pound King Floyd 'Money' Mayweather, Jr. In his first meeting with Mayweather, Maidana gave Mayweather all he could handle as he used that great pressure to back Mayweather up against the ropes and whack him with punches in bunches to the body.
In the end, however, it was Mayweather's defensive wizardry that won the night. Mayweather went on to win that fight by majority decision, but Maidana pushing Mayweather to a majority decision was impressive for Maidana. Heck, there were even some boxing fans who felt that Maidana actually won that fight.
The second fight with Mayweather would not bold well for Maidana, however, as Mayweather figured out the Maidana puzzle early and cruised to an easy unanimous decision victory. Maidana would gain a lot of fame, money, and glory from those 2 fights with Mayweather.
Conclusion
The very first time I saw Marcos Maidana fight, he was facing then up and coming 'Vicious' Victor Ortiz. In that fight, Ortiz exploded on him as Maidana got knocked down multiple times early on in that fight. He got up off of the canvas, and scored the stunning TKO upset victory over Ortiz.
I knew then that the boxing world was going to have a relentless fighter on their hands. Maidana will always be remembered as a resilient fighter. He had to battle back from being down on the scorecards in a lot of his fights, but his grit and determination earned him respect from all of the opponents that his faced.
How would you sum up Marcos Maidana's professional boxing career in a nutshell? Leave a comment at the bottom of this post. Also, feel free to share your favorite Maidana boxing moment.
FanDuel! One-Week Fantasy Football Leagues for Real Money! Join Now. Leagues start at $1!
For more boxing news and articles continue to visit www.potshotboxing.com. If you like this post and other's from Potshot Boxing, feel free to subscribe to this boxing website by entering your email address into the floating email form provided on this post! Potshot Boxing – "Boxing news and article bites for all walks of life."