The vacant WBO featherweight title will be up for grabs tonight and two young hungry fighters will be in the midst of trying to realize their dream.  So here is the question? Will "Mr." Gary Russell, Jr. take another step in the direction of superstardom or will twice be nice for Vasyl "Hi-Tech" Lomachenko as he will attempt to win a world title in only his third professional boxing match.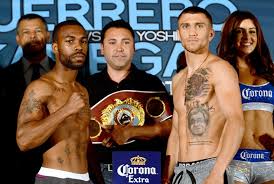 Photo Credit: ringtv.craveonline.com
The sky is the limit for these two fighters no matter what happens!!  Boxing needs these types of fights when you have two fighters entering their prime so I cannot wait to see which one of these fighter will take yet another step into Boxing superstardom.  Fights like the one tonight between Lomachenko and Russell, Jr. will always prove to the sports world that the sport of Boxing will never die as long as you have up and coming fighters that are hungry to become the very best in the sport we love called "Boxing."
Check out PSB's latest poll below this post and vote on who you think will win tonight's WBO featherweight championship fight.  Also, please feel free to interact with Potshot Boxing by leaving a comment in the comments section of the post by giving your reasons as to why you feel the fighter you chose to win tonight's fight will win.

Loading ...
For more boxing news and articles continue to visit www.potshotboxing.com. If you like this post and other's from Potshot Boxing, feel free to spread the word to your favorite social media channels with your friends and family!! Potshot Boxing – "Boxing news and article bites for all walks of life."