Check out Potshot Boxing's Fight of the Month for June of 2014!! It was a very close race this month.
Just when I thought that the boxing world had seen enough brutal fisticuffs from the Robert Guerrero/Yoshihiro Kamegai fight; here comes the youngsters Terence Crawford and Yuriorkis Gamboa. In the Guerrero/Kamegai fight, the boxing world witnesses a one-sided beating in which the loser of that fight, Kamegai, gained the respect of the entire boxing world for his bravery against the drubbing he took from Guerrero.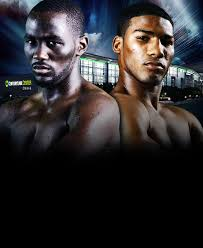 The Terence Crawford/Yuriorkis Gamboa fight, however, put on display two top fighters in the lightweight division who met in their primes which has been unusual for the sport of boxing as of late. These two fighters gave us not only a surefire 2014 Fight of the Year candidate kind of fight, but they also gave us at least two memorable rounds that can be considered for 2014 Round of the Year honors.
For these reasons, PSB's Fight of the Month for June of 2014 is Terence "Bud" Crawford vs. Yuriorkis Gamboa!!
Terence Crawford looked like he had fallen victim to the hometown hero syndrome during the first stages of this fight. Let me explain the "Hometown Hero Syndrome." This is when a fighter goes home to fight; family, friends and all other pressures outside the ring before a big event can sometimes distract the hometown fighter, and in a lot of cases the fighter will crumble to the pressures of trying not to let their hometown crowd down.
Yuriorkis Gamboa seemed to be a guy on a mission to spoil the family reunion that Crawford had going on in Omaha, Nebraska because for the first four rounds of this fight, Gamboa looked quicker and more engaged in the fight than Crawford. Crawford appeared to be tight in those first four rounds, and I was saying to myself, "Dude, you have a 70 inch reach so use it to gain control in the fight!!"
Well, little did I know that Crawford was just going through the feel out process with Gamboa. After four rounds were completed, Crawford seemed to have listened to me and the boxing world because he picked up the pace fast.
In round 5, Gamboa got caught with a huge right hand shot by Crawford that sent Gamboa flying to the canvas. Gamboa got up off the canvas and went for broke which created one of the best rounds of 2014. Gamboa would get rocked at least two more times in that 5th round by Crawford, but managed to barely survive the 5th as he was clearly on shaky legs.
From the 5th fight on, this fight turned into Gamboa's Heart vs. Crawford's Skillfulness. Crawford did a great job using his reach to control the fight and simply punished Gamboa from round 5 until the end of the fight. One caveat we must remember as well is that Crawford fought most of this fight from the southpaw stance so that right there lets you know that Crawford is going to be a special fighter moving forward.
Gamboa showed his true toughness by continuing to move forward in hopes of landing a big shot, but Crawford's accuracy was simply laser sharp as he kept catching Gamboa with all sorts of counterpunches. Crawford's counterpunching would prove to be unbearable for Gamboa as Crawford would catch Gamboa again in the 8th round with a counter jab as Gamboa was coming in, followed by a left hook, a right hook, and another left hook that sent Gamboa down.
The 9th round of this fight is another round that can be considered for "Round of the year 2014!!"
Crawford caught Gamboa with a huge counter left hook that dazed him. Gamboa would finally get his shot in the fight to shine as he caught Crawford was a big right hand shot that sent Crawford stumbling back. Gamboa tried everything in his power to knock out Crawford by throwing bombs from everywhere.
Crawford would get the last laugh in this fight; however, as Gamboa's recklessness would lead to him getting caught by a vicious left hook from Crawford that sent Gamboa to the canvas for a third time. Gamboa got up from the canvas only to get sent back to the canvas one last time by Crawford and the referee stopped the fight.
Crawford was awarded the 9th round KO victory. With the win, Crawford satisfied his hometown crowd of Omaha, Nebraska and the boxing world. He will remain the WBO lightweight champion in what a lot of boxing fans will consider the best fight of 2014!!
Conclusion
It is great to see two young fighters in their professional boxing primes come together and put on such a crowd pleasing fight like the boxing world got to witness this past June!!
Both Crawford and Gamboa will be surefire superstars after that great performance they put on in June. The sport of Boxing need more fighters to step up and fight each other like these two fighters did, instead of running from each other and waiting until the money is right!!
The fight between Terence Crawford and Yuriorkis Gamboa is definitely what the sport of boxing is all about!!
For more boxing news and articles continue to visit www.potshotboxing.com. If you like this post and other's from Potshot Boxing, feel free to spread the word to your favorite social media channels with your friends and family!! Potshot Boxing – "Boxing news and article bites for all walks of life."