Potshot Boxing's (PSB) fight of the week takes us back to January 20, 2001. It pitted the two best junior lightweights together at that time.  If you want to look for a fight where Floyd 'Money' Mayweather, Jr. was not favored to win by many boxing experts, this is the fight.
Check out this boxing t-shirt dedicated to the pure thinking aspect of the sport of Boxing, "The Sweet Science!"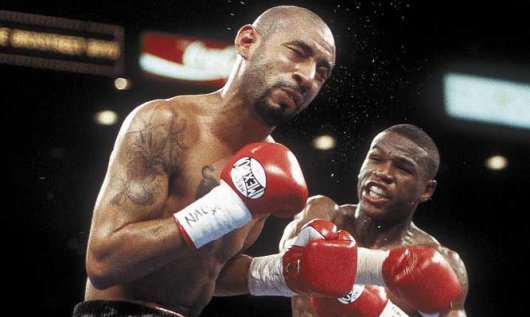 It was 'Pretty Boy' Floyd Mayweather, Jr. vs. The Great Diego 'Chico' Corrales.  During this time, Corrales was a boxing destroyer that nobody wanted to fight.  Mayweather stepped up to the plate and took on one of the most feared fighters at the time in Diego Corrales.  Both fighters were undefeated so this fight was for junior lightweight supremacy.
In this fight, Mayweather had to pull out all of the stops to befuddle and outclass the relentless Corrales.  It was masterful boxing on display by Mayweather.  Check out Potshot Boxing's (PSB) fight of the week here…..
Check out this boxing t-shirt dedicated to the pure thinking aspect of the sport of Boxing, "The Sweet Science!"
For more boxing news and articles continue to visit www.potshotboxing.com. If you like this post and other's from Potshot Boxing, feel free to subscribe to this boxing website by entering your email address into the floating email form provided on this post! Potshot Boxing – "Boxing news and article bites for all walks of life."