Potshot Boxing's (PSB) fight of the week takes us back to a tragic moment in American history.  The time was September 29, 2001, two weeks removed from 9/11.  The country was still in shock and recovering after airplanes crashed into the Twin Towers in New York; and the Pentagon in Washington, DC.
If you love fighters who never duck a fight, check out this cool boxing t-shirt!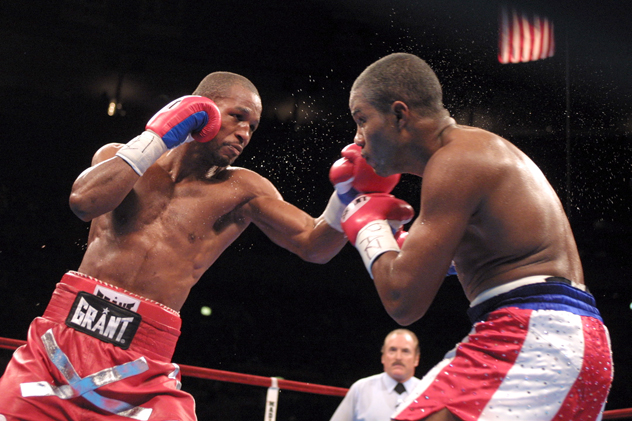 In this dark time in American History, sports played a huge part in healing the hearts of a lot of America. The fight between Felix 'Tito' Trinidad and Bernard 'Executioner' Hopkins was definitely a heart-healing moment for America.
This fight took place at Madison Square Garden in New York, right in the heart of where the travesty took place.  Healing was needed most in New York as love ones who lost people at 9/11 were looking for a bright spot to bring back normalcy back to their lives.
This fight between Hopkins and Trinidad was the Middleweight Tournament Finale in which both fighters ran through some good middleweights in order for their paths to cross.
Hopkins was a betting underdog heading into the fight, but only he and a lot of the boxing purist knew that on that night of September 29, 2011, he would have other plans for the heavily favored Tito Trinidad.
Bernard Hopkins put on one of the best performances of his boxing career as he took away Trinidad's devastating left hand.  The result, Trinidad did not have a plan B.  Check out Potshot Boxing's (PSB) Fight of the Week: Bernard Hopkins vs. Felix Trinidad here….

Loading ...
"Eat Sleep Box" T-Shirt.  If Boxing is your passion, this boxing t-shirt represents it. Own yours now! 
If you like this post and other's from Potshot Boxing, please feel free to subscribe. You can subscribe by entering your email address into the floating email form provided on this post!  Potshot Boxing – "Boxing news and article bites for all walks of life."