Check out Potshot Boxing's (PSB) Fight of the Month for July of 2014!! Not really a hard choice this month.
Saul "Canelo" Alvarez vs. Erislandy "The American Dream" Lara – July 12, 2014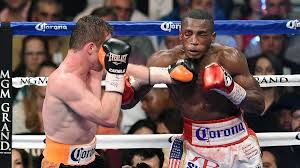 Photo Credit: espn.co.uk
The MGM Grand Hotel & Casino in Las Vegas was treated to another great Pay-Per-View. The fight between Canelo Alvarez and Erislandy Lara produced great boxing from Lara and great body punching by Alvarez which put the judges in a tough situation to score such a close fight.
The controversy that would ensue at the end of this fight would instantly make this fight Potshot Boxing's (PSB) choice for Fight of the Month for July 2014.
Going into this fight, Canelo and Lara did a lot of trash talking leading up to the fight which made this fight one of most anticipated boxing showdowns of the summer.
Get a $100 NFL Shop Gift Card…Click Here
Early on in this fight, Lara started off by using his great jab and elusiveness to move away from Canelo's aggressive attack. Lara would continue to move and counterpunch Canelo well for rounds 2 and 3. Lara moved so well early in the fight that Canelo literally picked Lara up in the air to stop him from moving.
Canelo made it his business to stalk Lara the entire fight by cutting off the ring and doing some good body work. Canelo body work on Lara proved to be the one key in the fight that changed the fight in Canelo's favor. By the end of round 5, Lara was clearly doing the better boxing of the two, but Canelo was just killing Lara's body.
Lara continued to box well In round 6, but he was backing up way too much to the chagrin of the judges. He was not outworking Canelo in a lot of the middle rounds of this fight.
In round 7, Lara got cut over his right eye. The cut would come at a bad time because Canelo's good body work seemed to start slowing Lara down. Canelo's attack to Lara's body would continue to pay dividends in rounds 8 and 9. Lara still did some great boxing despite getting cut in the 7th and beaten to the body.
Get a $100 NFL Shop Gift Card…Click Here
Rounds 10 and 11 could have gone either way as again, Lara was effectively boxing Canelo, while Canelo continued to pepper Lara with body shots. By round 12, the fight was still up in the air. It simply boiled down to what the judges like; boxing or aggression. Lara finished the 12th strong by throwing multiple combinations that landed on Canelo. Canelo finished the fight just like he started by chasing Lara down and destroying his body.
The fight would go to the scorecards. Two judges scored the bout 115-113, and the other judge scored it 117-111. Canelo Alvarez was awarded the controversial 12 round split-decision victory.
Conclusion
The judge that scored the fight 117-111 for Canelo caused a lot of controversy among the boxing world which put a damper on such a great performance by Canelo Alvarez and Erislandy Lara. This is just another example of how a lot of those rounds were closer than we thought. I personally believe that Lara's boxing won the night, but Lara looked like he was running instead of boxing during some moments in the fight, and that could have cost him the fight.
This was a very tough fight to score for the judges so you really cannot be mad with the decision. I was upset with the judge who scored the fight 117-111 for Canelo, but he could have been scoring those rounds for him when Lara seemed to be running instead of boxing.
Get a $100 NFL Shop Gift Card…Click Here
For more boxing news and articles continue to visit www.potshotboxing.com. If you like this post and other's from Potshot Boxing, feel free to spread the word to your favorite social media channels with your friends and family!! Potshot Boxing – "Boxing news and article bites for all walks of life."